Setup Failure is a Setup Too
by Reality Trader


Advertisement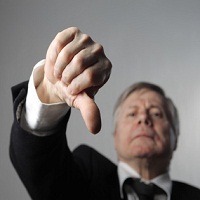 There are many ways to play the same chart configuration - that's what makes trading a mix of art and science, rather than science only. Just like different sculptors will make different art pieces from the same stone, different traders will find different trades in the same chart (did I just use the same word 4 times in the same sentence?) 
One of the ways to play standard setup is to fade it - that is to trade against it instead playing it straight. Let's say, short the breakout instead of buying it would be an example of such approach. One however needs a solid reason for doing that. Let me show one of such cases using today's trade as an example. Please keep in mind that even though I use intraday chart with relatively small movements, it's more of a convenience measure as it allows us to see immediate development. The idea of the play will be the same in any time frame. 
Some setups are not only profitable but also elegant - almost aesthetic joy to play them. Today's Catch of the Day (educational example, a trade where setup illustrates certain concept) is of this kind. Let's look in the anatomy of this chart, to make the play clear.
First, look at the big yellow area marked CUP. That's, umm, a cup of a Cup and Handle setup. Smaller yellow area marked HANDLE is, unsurprisingly, handle of the same. $32.90 is C&H's rim - resistance to break and trigger a long trade. There is however one element of this setup that is not exactly right - look at the volume configuration. While cup's volume is more or less correct (repeating price configuration by rising toward the rim and drying up toward the bottom), handle's volume is all wrong - last test of the resistance occurs on lower volume. Thus, instead of playing setup directly we went for fading it - shorting setups failure. Handle's bottom is at $32.70 but using it as a short trigger would give us too wide stop, so we went for aggressive entry at .80, with stop above .90 (see the difference between 3 kinds of entries here) The rest is history - stock dropped to 1:4 risk/reward (initial risk being 10 cents in this case) without ever jeopardizing a stop.

 




Advertisement
| | |
| --- | --- |
| | |


About the Author RealityTrader, lead by seasoned trader Vadym Graifer, is dedicated to provide traders with a solid understanding on how the market functions and how to implement time-proven techniques in a step-by-step and consistent manner. Vadym is the author of Techniques of Tape Reading (McGraw Hill 2003), How to Scalp Any Market (2005), Master Profit Plan (Trafford, 2005) and A Taoist Trader (2010). Vadym is a frequent featured speaker at International Trader's Expos, private seminars and Financial Forum Conferences. Realitytrader provides a community where traders can refine their trading skills with helpful hints and tips from those that trade the market everyday in a safe, affordable and non-threatening environment. RealityTrader is dedicated and committed to teach you everything about this evolving market. Evolve with us, not after us.


Jul 25, 2011
Volume 50 Issue 7


TraderPlanet Today provides highlights of our analyst market commentaries, featured articles, tutorials, events and other happenings taking place on the Planet.


More »


Advertisement


















Advertisement