JackCahn
JackCahn's Member Profile
Company Information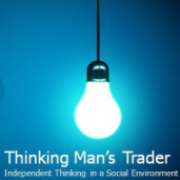 Thinking Man's Trader is a community established to help like-minded system developers and traders by openly sharing indicators, strategies, methods and trading stories or journals. TMT provides building block strategies, advanced trader's code and turn key plugin systems. 
My TraderPlanet
13 hours, 11 minutes ago
1 day, 17 hours ago
Products & Services
TMT strategy of the month community, TS9 plug ins: HedgX-SuperTrader, %BB-Rebound and New Turtle Trader.

My Content
Being late to the party is more than fashionable, it saves time and money for the smaller accounts that can't ha... ...
Trading Ideas Worth Sharing. When it's a matter of life or death, a simple checklist can make the difference. In ev...
Trading Ideas Worth Sharing. Publication of the TraderAssist(R) Inner Circle of traders. "There is plenty of room a...
Short Term Risk Taker's Index is on a new sell sign, February 22, 2012. The markets have been on a buy signal si...
Until now one of the longest lived and most popular trend indicators around has always been ADX which stands for... ...
Looking for signs of a climatix low this week on the 13th plus or minus two trading days. For More Infor... ...
BE IN HARMONEY WITH THE MARKET (Pride of o...