Trading Software: Forex/Futures
Wolverine, Eclipsed, Gator
Sep 25 2011
Company:
Creative Breakthrough, Inc.
Phone:
9999999999
Web:
www.traderassist.com
Product:
Wolverine, Eclipsed, Gator
Category:
Jack Cahn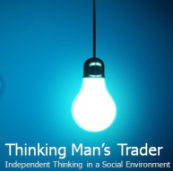 Creative Break Through
Trading Systems That Fits You
www.traderassist.com


Education, teamwork, and trading success are buzzwords that people throw around, often without merit. Occasionally, though, someone tosses out the words with merit and an intensity to back them up. Jack Cahn and his partner Alex Pressl (TraderAssist®) use the words and they back them up. The two have teamed up to create a rather interesting approach to assisting "Do It Yourself" (DIY) traders in achieving trading success. It all starts with the idea that achieving trading success means forgetting the conventional wisdom of "buy and hold" and, instead, time and manage the equity markets to produce the greatest return on investment (ROI).
Overview
"There is no I in team" is a cliché' sports saying. Well that might be true in sports, but in trading, according to the team "at TraderAssist®, "There is no U in team, but there should be." The whole premise behind what they do is that going it alone in the investment world is akin to serving yourself up as a "steak dinner" for the big players out there. The goal at TraderAssist® is to "to level the playing field for our clients."
Their approach to achieving this goal is to educate traders with accurate information and to provide algorithmic trading strategies for incorporation into the major four retail trading-platforms for automated trading: TradeStation 9 , Metatrader 4+5, NinjaTrader 7 and Strategy Runner. Not to be denied a chance to assist you if you are not using one of the "big four," TraderAssist® will transcribe its code to fit another platform that you might be using.
The foundation of their approach is to use longer-term charts (i.e., larger bar size). This removes volatility, increases trending opportunities, and provides more reliable trading signals. In the context of this approach, TraderAssist® has developed a wide array of systems giving the trader the ability to "choose a system or strategy with a style to match his own ability to take on risk." This "Top Tier Trading System" selection includes 11 systems, all different yet all focused on the same thing – making you money in the market. Three examples are:
%C-Daybreaker – This system helps traders figure out if the tendency of the market is to follow through on the break or if the environment is conducive to failed attempts at breakouts. The market condition filter to the gap feature plus additional pattern recognition enhancement, give this system a more profitable annualized return.
Wolverine – This robust system is for swing traders with an average holding period of four to five days. Based on the simple idea of initial momentum serge, it enters long or short trades with the expectations of capturing a profit over several days. The system can be in or out of the market, unlike other systems, as it picks it entries selectively.
Eclipsed-GT.DT – This system is an around the clock trader. Eclipsed-GT is a change of trend type of auto-trader. One strong point of this unique system is that it can be applied to all primary economic sectors of the commodity futures markets: the financial group, the metals group, the energy group, and the agricultural group. Eclipsed-GT has an average holding period of 3 to 4 hours.
The above examples merely touch the tip of the iceberg, as so much more technical stuff is going on under the surface. The important thing is that the above systems, and the other eight systems as well, are designed and developed to fit your needs and to make your trading pay off for you. Remember that if you are not using one of the big four trading platforms, the good people at TraderAssist® will make their code fit your need. Now, that is customizing for you.
Additional Features
Education is the third leg in the complete structure that is Trader Assist®. If you subscribe to the TraderAssist® blog group, you will gain access to dozens of informative newsletters, technical briefs and educational videos covering important topics. These include:
Alternative Investment Ideas
Market Commentary
Historical and Real Time Performance Data
System Trading Tutorials
Trading Tools
Research applications for alternative investments
Trading Coach and Perspectives
Conclusion
This short review might not have explained well all the ways TraderAssist® can help you (there are many time-tested strategies in their offerings) so, letting the words of the advisors themselves flow across the page will clarify and illuminate the essence of what they do …
This service is not about assisting brokers or helping pool operators. Rather in the face of all the propaganda out their trying to convince you to do it on the cheap and do it on your own, TraderAssist® is about assisting the individual in building a team and an environment that is supportive. We run an advisory based on educating, sharing, and building a team of partners who work with us over the long term. Please come and join us. It will cost you nothing.
It's rough out there boys and girls. If you are going to make it, you might need some help. Consider taking them up on their offer.