Trading Education: Book - Review
Product: Tradesmart University's Power Trader Pro
Company: TradeSmart University
Phone:
Website: http://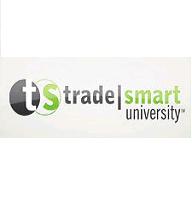 Product: Tradesmart University's Power Trader Pro
Category: Trading Education
This fast-paced, advanced class is a supplement to the popular Power Trader LIVE class, giving a daily update to each of the stocks in the TradeSmart University (TSU) top ten. By doing an in- depth analysis every day, students can more accurately time their entries and exits to maximize profits and minimize losses.
Power Trader Pro includes:
* Daily Live Webinars
* Includes Power Trader LIVE
* Monday through Thursday 4-5pm EST
* Video Recordings
Unique to Power Trader Pro is the introduction of themed days (Metals Monday, Tech Giant Tuesday, Energy Wednesday and Transportation Thursday). Each day the class examines stocks outside of the top ten in various sectors to keep an eye on what is going on in the general market.
Traders will also have access to a community of like-minded traders who are in the process of changing their own financial futures and learning to trade the financial markets effectively.
VIDEO INTRO: http://www.youtube.com/watch?v=sjPSkttuY_o