Product: See It Market
Company: See It Market, LLC
Phone:
Website: http://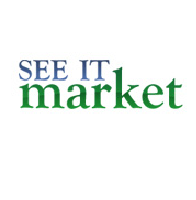 Product Name: See It Market Blog

"Where investing and economics collide!"
See It Market is an excellent example of what a good financial blog can offer. The goal of See It Market is "to promote and provide a well-rounded, educational take on trading, investing, economics, and everyday life."
The site is clean, easy to navigate, and filled with educational insight into trading and investing. Approaching the market from all angles, See It Market clarifies the swirl of economic/market data and it surpasses the mainstream punditry that often falls short of helpful.
See It Market presents its sound analyses in easy-to-read writing that helps make the necessary work in trading the market just a bit less taxing. The contributing writers featured on See It Market are "everyday professionals, investors, and entrepreneurs that have a passion for giving back through educational insights on a wide array of financial topics." They are quality writers providing fresh takes on otherwise stale material, so prevalent in mainstream financial punditry.
It's easy for the reader to follow and "connect" with the community of writers on the site, as See It Market provides something for everyone, including those who want their analysis of complex material straight forward with clarity. For example:
Every month the VXX suffers from negative roll yield when the CBOE VIX futures curve is in contango. The VXX Fund must "roll" its futures to rebalance to the later contract and as the expiration date nears, it is forced to sell its closest to expiry contracts and buy the next dated contracts. The purchases are often at higher prices if the curve is in contango, thus losing the spread amount between the two contracts that are rebalancing.
See It Market covers all the market basics, such as global markets, stocks, bonds, commodities, options, and currencies, (to name just a few), and it does so with a thoughtful approach to reader integration and community.
See It Market offers many decades of market and financial experience through its writers, but Andrew
Nyquist, the leader, heads the pack. His experience and market knowledge come from 14 years of hard work in the investment industry, and the industry has recognized his worth. He has appeared in all manner of financial media, from Smart Money to Yahoo Finance, giving his thoughtful takes on the market.
If you would like a steady diet of educational material that will help you become a better trader and investor, check out the See It Market blog.