Large world stocks have obviously pressured the wheat market for months.
The concerns I see on the international scene have yet to be a market influence,
partly due to the falling corn prices as well. I believe that dry weather in
India will severely lower planted acreage if it continues, as irrigation supplies
are low. The drought in Argentina remains pretty severe as well, while
cooler weather in Canada probably has lowered their wheat crop down
slightly from where it was.
In Australia, conditions have been good, but I believe it may become a little too
dry in New South Wales and Queensland. Usually, during El Nino, some problems
develop later. So in my mind, we have a case for S. Hemp and India problems
that may at some point be a bullish impetus for wheat.
Further studies need to be done with regards to Argentina and Australia over the next
2 months, so maybe you can have MJO Jeff throw his two cents in. I will have something
the middle-later part of the week. For now, my take is below:
ARGENTINA WHEAT
The Argentina wheat crop will be entering its important "heading stage"
in September and October, and some teleconnections suggest a continuation
of weather problems there. The warming in the equatorial Pacific and region
Nina 1+2 would suggest below normal rainfall (on average), for at least
the next month and possibly in October. If this happens, significant wheat
crops losses would be likely again here, but by late fall or winter,
the odds of conditions improving for summer corn and soybean crops is higher.
AAO index since May has been unusually negative in the southern Hemisphere, just
as it has been negative over the northern Hemisphere, possibly sparked by
the continued, near record low sunspot activity. Often, when the AAO index
is negative in both the spring and summer, more normalized rainfall
occurs early in the fall, or by winter. The timing of when these rains will
fall will be crucial to wheat. If they fall by September/October, then yields
may only be slightly below trend for Argentina wheat. If not till later, severe
problems may arise. I will take a closer look at this later in the week.
For now, see current moisture conditions for Argentina below:
AREAS OF RED SHOW MODEST TO SEVERE CROP STRESS TO WHEAT
IN BUENOS AIRES AND INTO SOUTHERN SANTE FE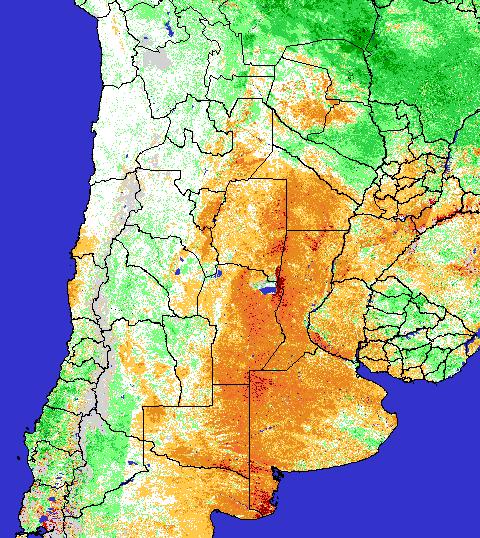 THE CHART BELOW SHOWS RAINFALL BELOW LAST YEAR, AND ALSO
THE 5-YEAR AVERAGE (GREY LINE).
RED IS CURRENT SHOWING MOISTURE PROBLEMS