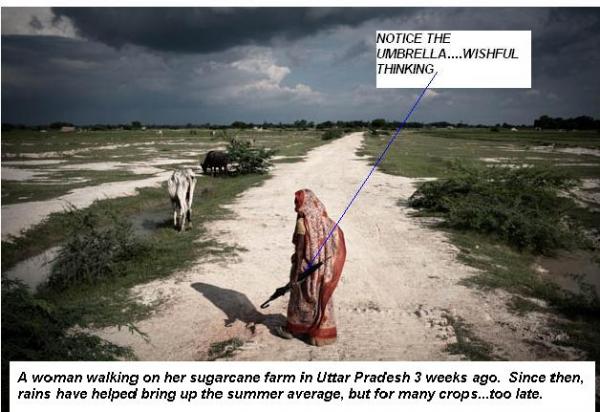 WHERE SUGAR CROPS WERE HIT THE MOST
There continues to be reports about places like northern Uttar Pradesh in which sugar cane crops are barely 3 feet tall, when this time of the year, they should be more than 6 feet high. Uttar Pradesh usually receives 27 inches of rain from June-August, and this year rainfall has averaged about 14.4 inches.
India as a whole had the driest June in 83 years and the monsoon this season from June-Mid-September is the worst since 1972 (22% below average). Rice, oilseeds, peas and beans have also been hurt.
The drought in India has been worse in Uttar Pradesh in which the government recently reported that 58 of its 71 districts had water shortages. But why, when some of these districts have had 10 inches of rain or more? While some districts had under 2-3 inches, many had over 10, and in many countries this would be considered "healthy rains." The reasons we addressed a month or so ago about higher evapotranspiration levels in India, versus most countries, and that sugarcane (2 year cycle crop) requires consistent, evenly distributed rains for maximum yields. But, there is another reason–"India's antiquated irrigation system and agricultural practices!"
Rains are usually the only means of sustaining summer-sown crops because India's irrigation network is often dry due to poor maintenance. Also, Uttar Pradesh suffers from frequent power cuts. This limits the possibility of pumping groundwater to fields. So, unless all of these rains are received in a timely, consistent manner, at least in Uttar Pradesh, power and irrigation problems cannot make up for the short fall, as other parts of the country can.
Nevertheless, rains have improved in September, and in Uttar Pradesh, have halted further deterioration, (I think?), but other areas in India now have 50-75% of their normal September rainfall, and this is likely to drop further.
WEEKLY RAINFALL ENDING LAST WEDNESDAY
Rainfall over the last 2 weeks were the best of the summer, but a trend towards below normal rainfall will be the rule the next week.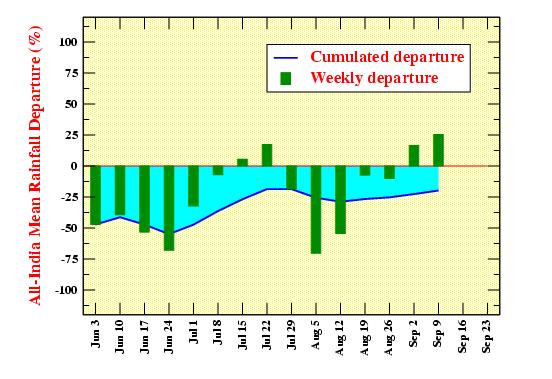 HERE IS THE WEEKLY RAINFALL ENDING SATURDAY
Pakistan sugar cane areas may be suffering again as well as some cotton regions around Gujarat.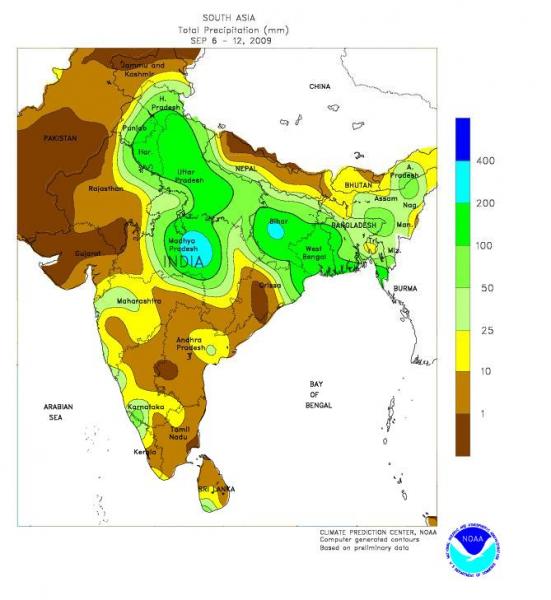 THE LAST DAY OR TWO, NOTICE HOW MANY AREAS ARE DRYING OUT AGAIN: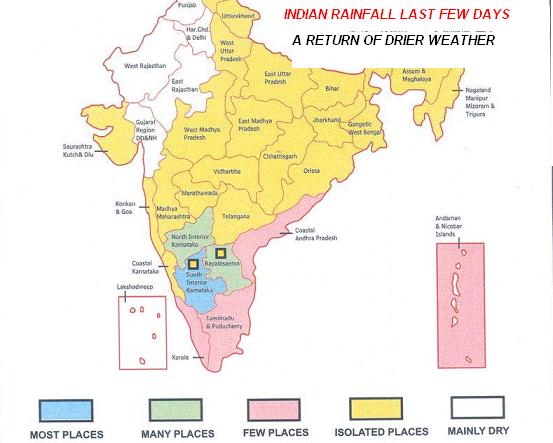 KEY INDIAN SUGAR AREAS—–WEEKLY RAINFALL SINCE JUNE
UTTAR AND MADHYA PRADESH ACCOUNT FOR MORE THAN 60% OF INDIA'S SUGAR PRODUCTION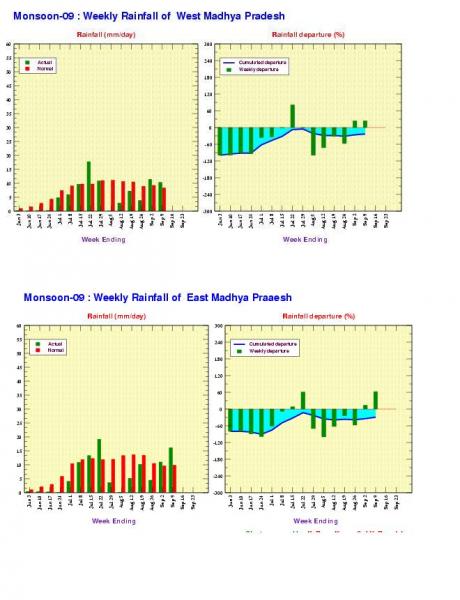 COMPUTER MODEL FORECAST NEXT 6 DAYS
Rains shifting some some southern cotton and groundnut areas, while many central/NW oilseed and sugar cane regions will see a return to drier weather and some problems.

OTHER WORLD SUGAR DEVELOPMENTS
*Drier weather in Pakistan may reduce yields slightly from current levels.
*Cuba has been too dry this summer.
*Ukraine dryness may see some yield loss, although harvest weather is important.
*Brazil rains set back harvest—some short term improvement, but quality
concerns still a problem.