Over 3,700 ADI Aug $60 calls traded on August 5th with a large amount of these bought for $1.80-$2.10. The call to put ratio was 9:1. Back on July 22nd, roughly 3,000 of the Aug $60 calls were bought for $1.35-$1.85. The bullish action in the August (and September) options expiration as of late could be linked to Q3 earnings on August 18th (spiked on 2 out of the last 3 reports) or possibly to a Reuters report on Texas Instruments less than two months ago.
On Jun 19th, Reuters reported that Texas Instruments could still be looking at making a large deal in the semiconductor space. They had been in talks with Maxim Integrated Products and Freescale Semiconductor (ended up being acquired by NXP Semiconductors). ADI, Linear Technology, and Microchip Technology were listed as other potential takeover targets.
Analog Devices, a $18B multi-national semiconductor company specializing in data conversion and signal processing technology, trades at a P/E ratio of 18.56x (Oct16 estimates), price to sales ratio of 5.85x, and a price to book ratio of 3.69x. Earnings and revenue are expected to grow 20%+ and in the low teens, respectively, this year. On August 3rd, RBC Capital initiated the stock with an outperform rating and a $70 price target.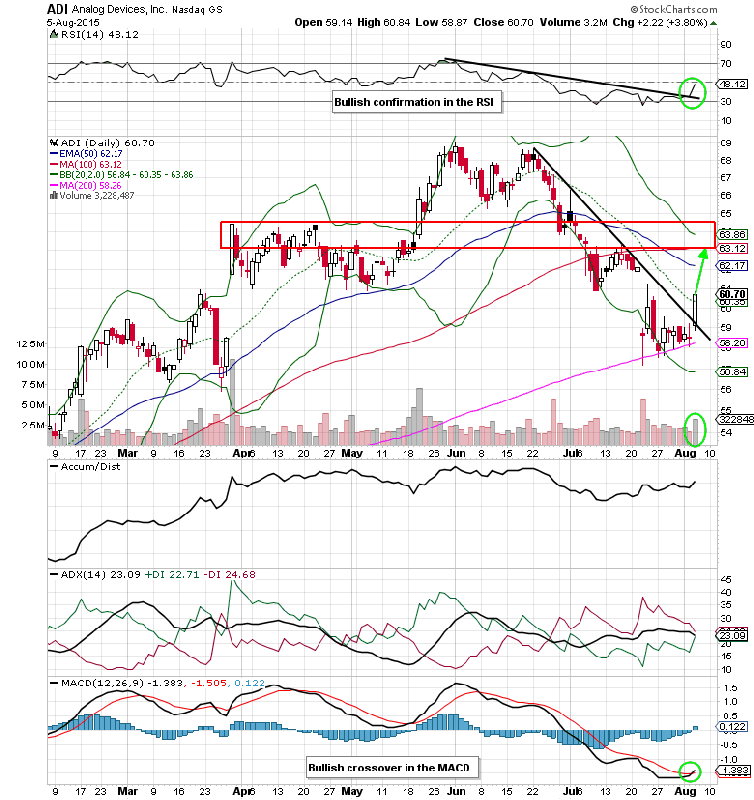 After a correction back down to the 200-day SMA in less than two months, shares of ADI are beginning to breakout above the downtrend line on above average volume. Consider taking a bullish stock position now, using a stop loss under $58. Look for a minimum retracement to the $63-$64 level in the coming weeks.
Analog Devices Options Trade Ideas
Buy the Aug $60/$65 bull call spread for a $1.70 debit or better
(Buy the Aug $60 call and sell the Aug $65 call, all in one trade)
Stop loss- None
1st upside target- $3.40
2nd upside target- $4.95
If you'd like to learn more about options trading please click here to visit Mitchell's website OptionsRiskManagement.com for details on his subscription service and 1 on 1 mentoring courses. http://optionsriskmanagement.com