Coffee futures have tacked on roughly 6.5% through the holiday sessions. Part of this has been due to El Nino weather concerns in Vietnam, which produces around 20% of the world's Robusta (instant) coffee. Meanwhile, the extra rain El Nino has brought to the Brazilian Arabica (Starbucks) crop combined with the currency depreciation of the Brazilian Real will push their production and exports to record levels. The Vietnamese crop appears to have been spooked higher, recent news reports are that Vietnamese stocks are still being held back from the market due to low prices. This means coffee producers are looking for any type of rally to sell the production upon which they still sit. Finally, news reports appear to have not been fully vetted prior to publishing attention grabbing headlines as Vietnamese production had already been forecasted to fall by nearly a quarter this year due to already low prices, the banking issues these prices have caused and scheduled replanting.
We often discuss why we track both the commercial trader position as well as their momentum and the coffee futures chart below provides a great example. Note that the net commercial trader position has remained fairly flat since April. The relatively small movements contributed to several successful trading signals as the overall decline since April has been fairly shallow. This type of sideways action lends itself well to Commitment of Traders analysis. However, what you don't know is that the two recent buying peaks in September and November were the second and third largest net commercial positions in the last 25 years. This means that commercial long hedgers, the roasters, have met their immediate and future demand. Indeed, commercial short hedgers appear as though they may be throwing in the towel as their fresh sales on this rally have been enough to push commercial trader momentum into negative territory.
The shift in commercial trader momentum puts us on the lookout for rallies to sell in anticipation of future declines. The overbought reading on the short-term market momentum indicator sets the flag for the trade. Now, all we need is some type of reversal as the market runs into resistance here at the 120-day moving average, now at $126.35. Once the market begins heading lower, we'll enter on the short side and place a protective buy stop at whatever price this market prints for a swing high. We think the concerns over Vietnam are unfounded and expect an abundant Brazilian crop. Considering that roaster demand is fully sated as their near record position illustrates, we expect this market to make new lows for this move below the September low at $114.55.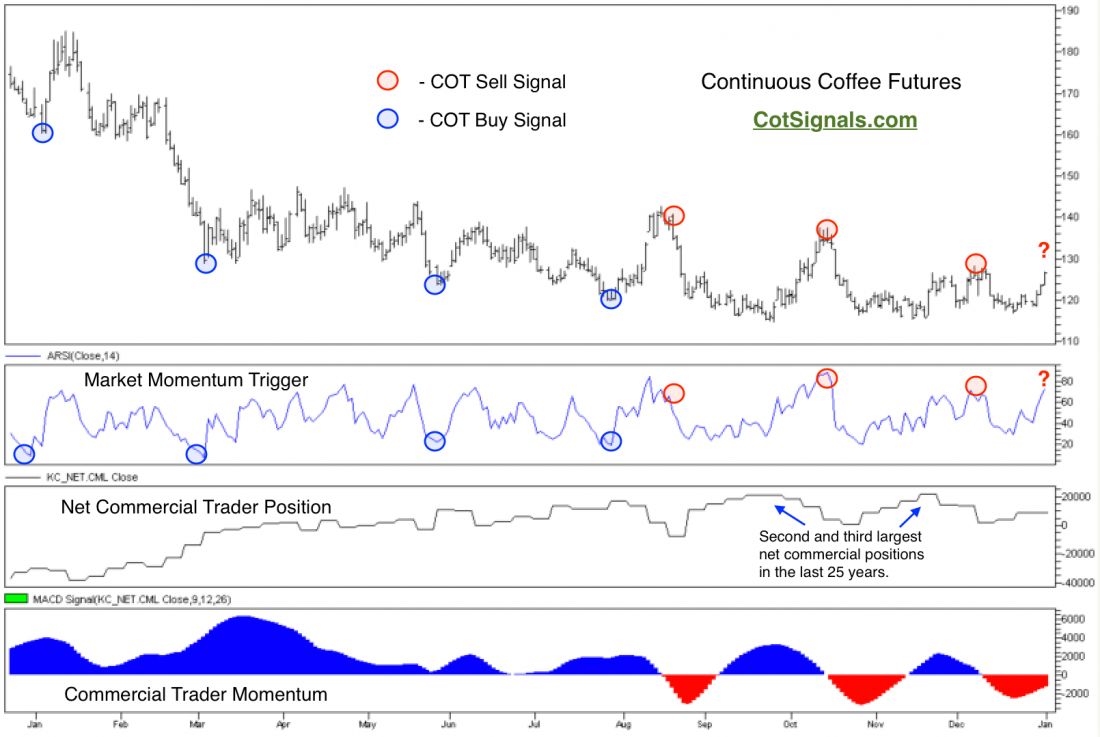 Do you want to leveraget the resources of the world's biggest commercial traders? CLICK HERE