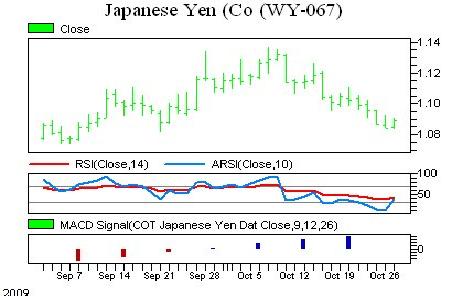 I'm going to start posting selected charts from the COT Signals nightly worksheet. Hopefully, "a picture is worth a thousand words."
As you can see, the MACD commercial momentum indicator is blue. It turned positive in September and now has us on the lookout for buy signals.

Since September, the blue variation of RSI (ARSI – Andy's RSI) has triggered two buy signals. The first was on October 19th and proved to be a small losing trade. We were stopped out at the swing low of 1.0953.
Yesterday's price action triggered the second buy signal. We will risk this trade to the swing low of 1.0834.
In summary, we have an oversold market in the face of positive commercial momentum. After processing the data, it's determined that the market could be putting in a swing low. We are buying the Japanese Yen futures because we anticipate a rally in this market.
Finally, we can quantify the risk of the trade by knowing that our stop loss will be placed at, what we hope, will end up being the swing low.
Please call with any questions. 866-990-0777