Commodity TRADING SCHOOL
COMMODITY TRADING SCHOOL FUTURES MARKET SUMMARY 09/22/09
SUMMARY OF UPCOMING DATA 09/22/09
10:30 AM EIA PETROLEUM REPORT
1:00 PM US 5 YEAR NOTE AUCTION ($40B)
2:15 PM FOMC MEETING ANNOUNCEMENT.
DATA RESULTS 09/21/09
US FHFA HOUSE PRICE INDEX (0.3%)
US 2 YEAR NOTE AUCTION ($43B, BID TO COVER 3.23, YIELD 1.034%)
FOMC MEETING BEGINS
US DEBT REVIEW AND OUTLOOK
US TREASURIES rebounded slightly on Tuesday after strong demand from the US 2 year note auction offered support to the government securities complex. Overall trading was quiet ahead of Wednesday's FOMC meeting announcement and $40 billion US 5 year note auction. Traders are expected to be watching auctions further out on the yield curve with greater scrutiny.
Speculation regarding of US dollar weakness continues to offer a double edged sword to Treasury investors, particularly foreign entities. One the one hand, the weaker US Dollar erodes overall returns for fixed income holders when funds are repatriated while the increased mileage that foreign currencies gain by purchasing US dollar denominated debt offers a value play with regards to capital security. Sentiment appears to be seesawing for the time being, contributing to the tight ranges which the market has been contained in for the last month. When the market makes a decision on the prevailing influence, look for that to be a key catalyst for breaking Treasuries out of their trading range. Watch for possible signs from the FOMC statement posted tomorrow and give the markets one session to digest elements of the statement.
Technically, December 30 year futures continue to trade in a narrowing channel, which appears to be signaling a potential breakout, at least for the near term, is forming. See little change for support and resistance levels. December 30 years should test 118-11 as an initial support, with key down side targets at 117-14 and 116-21. Resistance sets up at 120-23 and 121-18.
US EQUITY REVIEW AND OUTLOOK
US EQUITIES continued their late session recovery from Monday, trading up to their highest levels of 2009 again as energy and financials stocks recovered from Monday's selloff. Reports from the Asian Development Bank forecasting better than expected growth for the region spurred positive sentiment in the equity markets, fostering buying interest in sectors which has come under pressure on Monday. Commodity based stocks were among the strongest gainers as renewed weakness in the US Dollar fostered buying in a number of commodity sectors, particularly energies and agricultural. Technologies also gained on the session led by Microsoft as the tech bellwether tested its 2009 highs, offering support to the entire sector.
Technically, December S&P futures are testing high end of range at 1068.00. Market continues to trade in overbought territory with significant level of resistance at 1075.70. Support levels for the market set up at 1052.75 and 1044.70.
| | | | | | |
| --- | --- | --- | --- | --- | --- |
| US DEBT FUTURES | OPEN | HIGH | | | CHANGE |
| US Z9 (US 30 YRS) | 119-05 | 119-13 | 118-19 | 119-05 | +4/32nds |
| SP Z9 (S&P 500) | 1066.00 | 1069.20 | 1061.50 | 1067.30 | +6.90 |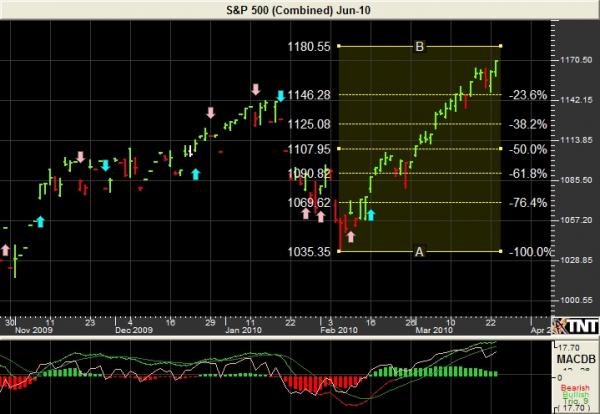 Prepared by Rich Roscelli & Paul Brittain.
PLEASE EMAIL QUESTIONS OR COMMENTS TO RICH@BINVSTGRP.COM
Past performance is not indicative of future results. The information and data in this report were obtained from sources considered reliable. Their accuracy or completeness is not guaranteed and the giving of the same is not to be deemed as an offer or solicitation on our part with respect to the sale or purchase of any securities or commodities. Commodity Trading School, its officers and directors may in the normal course of business have positions, which may or may not agree with the opinions expressed in this report. Any decision to purchase or sell as a result of the opinions expressed in this report will be the full responsibility of the person authorizing such transaction.