COMMODITY TRADING SCHOOL MARKET SUMMARY
DATA RELEASES 11/17/2009
8:30 AM US PRODUCERS PRICE INDEX (0.5%, EX # 0.1%)
9:15 AM US INDUSTRIAL PRODUCTION (0.4%)
US TREASURIES climbed for a third session before backing of ahead of Tuesday's reading on Producer prices and US industrial production numbers. Treasuries rallied in the wake of solid, but cautious forecasts on US retail sales. The strong figures prompted equities to rise to their highest levels of 2009. Dovish comments from US Fed Chairman Bernanke offered continued support for the low yield interest rate environment to continue well into 2010. The chairman reiterated in testimony likely to ensure his reappointment, that "economic headwinds" and uncertainty will like force continued low rate environments to be the mainstay in fiscal policy for the foreseeable future.
Not surprisingly, Treasuries poised to take a break ahead of potentially pressuring data as inflation data on the producer level may show a small uptick. Expectations are for an increase of 0.5% for the main reading. Excluding food and energy, the reading is expected to come in at plus 0.1%.
It may be that the standard end of the year jump in Treasury prices supported by portfolio rebalancing may be occurring early in the wake of the unprecedented supply concerns which threaten to erode value and confidence in Treasuries beyond the level that a low interest rate environment can offer support. This growing concern is becoming evident by the rising costs of credit default swaps on US Treasuries which have recently climbed to their highest level in four months. This development, coupled with the recent calling out of Britain's triple AAA credit rating as potentially unsustainable, is likely to keep gains in Treasuries in check and should result in downward momentum to hit the complex fast and hard, particularly on the long end of the yield curve.
Technically, Dec 30 Year Treasuries are approaching a significant overbought region on daily RSI. The recent breakout should find significant resistance at 121-10, with 122-16 setting up as a significant foundation for upside momentum to build. Expectations are for this contract to stage a pullback to 120-00 in the near term.
US EQUITIES finally made their first attempt to break through significant levels of resistance as all of the major indices powered to fresh 2009 highs, supported by a better than expected jump in US retail sales and encouraging commentary from Federal Reserve Chairman Bernanke regarding maintenance of current fiscal policy ramped up buyers as the US dollar fell and commodity prices gained. A rebound in US auto sales pushed the overall retail sales figures for October to 1.4%, higher than the expected 0.9% increase.
Technology Stocks were among the best performing sectors of Monday's rally, as companies took heart from the strong retail sales figures, trying to convert this past performance in potential good will going into the holiday season and 2010. Speculation of increased M&A activity also boosted sentiment.
Mining stocks gained after gold prices reached another record high on Monday. Energy prices remained somewhat range bound, as gains in the sector may be coming under some pressure based on speculation that economic recovery may be focused on projects focused on developing longer term use of alternative energy processes that may not be centralized within traditional energy companies initially.
Technically, Dec S&P futures broke through the significant resistance level of 1103.00. Initial resistance for the contract should be forming at the 1115.00 level. Upside targets in the contract set up at 1123.00 and 1132.00. 1140.00 could be the 2009 top out level. Expecting the contract to stage a near term pullback to 1107.00, with 1101.70 setting up as near term support.
PREPARED BY RICH ROSCELLI AND PAUL BRITTAIN.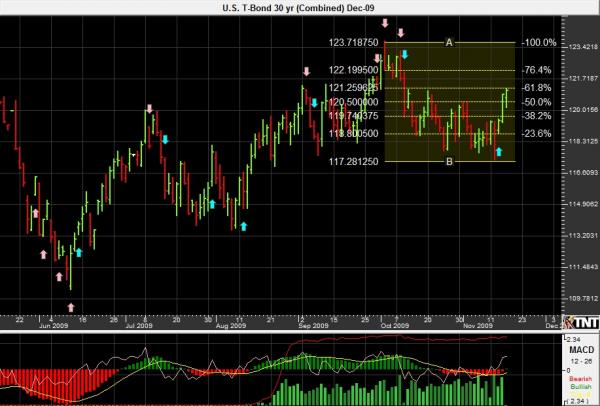 Email rich@binvstgrp.com
Past performance is not indicative of future results. The information and data in this report were obtained from sources considered reliable. Their accuracy or completeness is not guaranteed and the giving of the same is not to be deemed as an offer or solicitation on our part with respect to the sale or purchase of any securities or commodities. Whitehall Investment Management and Commodity Trading School, its officers and directors may in the normal course of business have positions, which may or may not agree with the opinions expressed in this report. Any decision to purchase or sell as a result of the opinions expressed in this report will be the full responsibility of the person authorizing such transaction.