Commodity TRADING SCHOOL
COMMODITY TRADING SCHOOL FUTURES MARKET SUMMARY 11/24/09
SUMMARY OF UPCOMING DATA 11/25/09
8:30 AM DURABLE GOODS ORDERS (0.5%), PERSONAL INCOME (0.2), CONSUMER SPEND (0.5), WEEKLY JOBLESS CLAIMS (495 K)
9:55 AM US CONSUMER SENTIMENT (67.0)
10:00 AM NEW HOME SALES (410K)
10:30 AM EIA INVENTORY REPORT (PETROLEUM)
12:00 PM EIA NATURAL GAS REPORT
1:00 PM US 7 YEAR NOTE AUCTION
DATA RESULTS 11/23/09
US GDP (09 3RDQ) 2.8% (In Line)
US CONSUMER CONF (49.5 vs.47.0)
FHFA HOUSE PRICE INDEX (0.0)
US 5 YEAR NOTE AUCTION (B/C 2.81, Yield 2.175%)
FOMC MINUTES; FED MIN SHOW BALANCED ECONOMIC RISK, SLOW GROWTH, SLOWER RECOVERY TO LABOR MARKETS.
US DEBT REVIEW AND OUTLOOK
US TREASURIES rallied after Tuesday's record auction of US 5 year debt posted the highest buyer interest in 2 ½ years and the minutes of the Federal Reserve's November meeting pointed the retention of current near zero interest rate policy, though concerns were brought up of the potential of "excessive" speculation possibly creating an unexpected rise in inflation. It would appear that the Federal Reserve has more confidence than history has demonstrated with regards to its ability to unwind monetary policy. (How many times has an elephant actually climbed through a window without breaking it?). Still, the fact that this scenario is being addressed by the Fed does suggest an awareness of the awesome freight train of stimulus that has been set in motion and the difficulty in managing the brakes (Sorry for all the imagery today- holidays coming up I suppose).
The overall data picture on Tuesday outside of the auction results and Fed minutes was benign at best. US 3rd quarter GDP was revised down to an expected level, though a gain is a gain. This potentially supportive news for Treasuries was met by a better than expected reading on consumer confidence and stabilizing home prices. In the end, positive sentiment regarding ongoing interest rate environment and the normal portfolio allocation which occurs this time of year (along with a desire for security going into the lower volume, higher volatility season) gave Treasuries a boost through near term resistance.
Technically, Dec US 30 years staged an upside breakout today, setting up for a test of resistance at 122-04. A cautiously bullish tone will likely stay with the complex, though some squaring up of longs should take place ahead of Wednesday's 7 year auction. Near term support for the contract sets up at 120-30, with a break of this level possibly setting up a test of 120-00.
US EQUITY REVIEW AND OUTLOOK
US EQUITIES remained under pressure for most of today's session, as a lack of supporting data for equities, a downward revision of US 3rd quarter GDP, and a pullback in energy and commodity prices shifted many equity traders to the sidelines, looking to take profits from recent volatility.
Equities entered a corrective phase early, with the major indices testing their worst levels of the session after the release of better than expected consumer confidence data failed to inspire further defense of a market which had been trying to rebound off a downward revision in 3rd quarter US GDP (up 2.8% from 3.4%). Weakness in commodity prices also pressured stocks throughout the day. Dovish sentiment from the Nov FOMC minutes supported the rebound off session lows, allowing the major indices to close slightly lower on the day. The strategy of not making major bets on market direction ahead of the long US holiday weekend remains intact.
The technical outlook for S&P's remains relatively unchanged. Support stands at 1093.00 and 1088.00, while 1112.80 remain as a significant level of resistance.
| | | | | | |
| --- | --- | --- | --- | --- | --- |
| US DEBT FUTURES | OPEN | HIGH | LOW | CLOSE | CHANGE |
| US Z9 (US 30 YRS) | 120-31 | 121-23 | 120-28 | 121-17 | +20/32nds |
| SP Z9 (S&P 500) | 1104.50 | 1106.50 | 1096.10 | 1103.10 | -0.70 |
| | | | | | |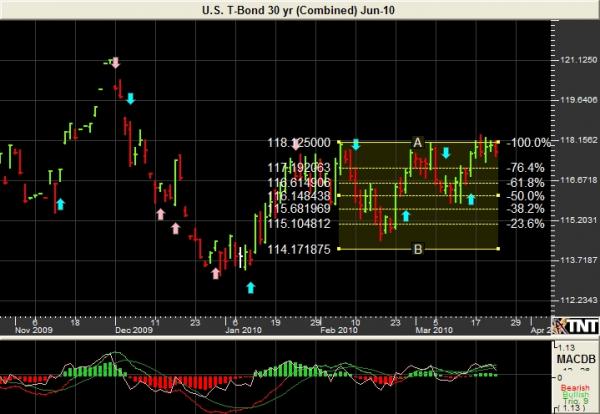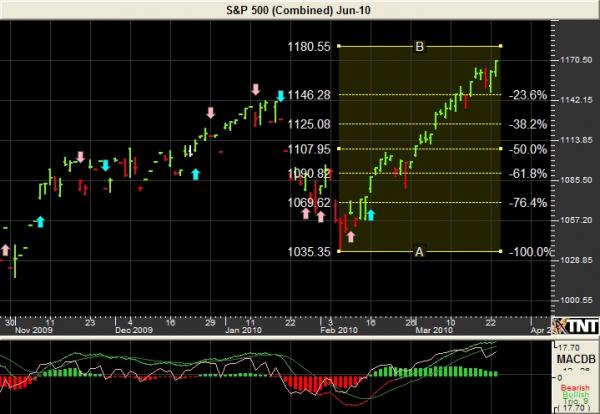 Prepared by Rich Roscelli & Paul Brittain.
PLEASE EMAIL QUESTIONS OR COMMENTS TO RICH@BINVSTGRP.COM
Past performance is not indicative of future results. The information and data in this report were obtained from sources considered reliable. Their accuracy or completeness is not guaranteed and the giving of the same is not to be deemed as an offer or solicitation on our part with respect to the sale or purchase of any securities or commodities. Commodity Trading School, its officers and directors may in the normal course of business have positions, which may or may not agree with the opinions expressed in this report. Any decision to purchase or sell as a result of the opinions expressed in this report will be the full responsibility of the person authorizing such transaction.