Thursday gave the market another down day on heavy volume, leaving the second distribution day this week and three of the last four trading days have been distribution days. The TRIN closed at 1.76 and the VIX at 22.26 the highest close since December 17th. Gold closed down $9.40 to $1103.20 and oil down $1.66 to $76.08 a barrel.
The Dow closed 64 points below the 50dma, the last time the Dow fell under the 50dma was October 30th and the next day the market popped right back over it to rally. S&P 500 closed just 2 points over the 50dma, NDX is 28 points over and the COMPX is 40 points over this key moving average. With this drop the 10dma has started to close in on the 20dema, if the shorter term ma's start to cross through the longer term that is a bearish tone. Along with that breaking the 50dma is a bearish indication. Leaving us with several things to focus on over the next few days. In addition to that the CCI is negative, stochastics are pointed down , RSI also pointed down with plenty of room to move on each indicator. Banks made a new high on the week intraday and pulled back to close with a shooting star, a possible reversal candle. SOX and brokers are still in range, while hardware confirmed the bearish engulfing pattern with the lower close.
All this tell us the market still has room to fall, but the big drop today does need a bounce to keep from becoming oversold. After the bell COF, GOOG, AXP, AMD all reported earnings and ALL are lower in the after hours. Not a happy market with those releases and ahead of the bell we will hear from GE and MCD, both Dow components. Friday the market is likely to open very slow and try to shake off some of this drop. However, at this point we've seen very little follow through and the Nasdaq is still on a key level. The NQ drops 1849 with volume we can look for continuation on this downside. Until then the dips could still be bought as we've seen every drop. The NQ did close below 1849, but before we heard from GOOG at 4 it was hovering it. We bounce back over it we may hold, drop we look for 1820.50. ES has 1110.75 support and onto 1101 next. Bounce back over 1124.25 look for a bigger retracement, the NQ 1860.50 resistance.
Economic data for the week (underlined means more likely to be a mkt mover): Friday nothing due out.
Some earnings for the week (keep in mind companies can change last minute: Friday pre market GE, KMB, MBFI, MCD, SLB, STI.
BKX (Banks) closed -.24 at 47.58. Support: 46.97, 46.49, 45.76, 45.03, 44.31 50dma. Resistance: 48.36, 49.28-49.46, 50.47, 51.41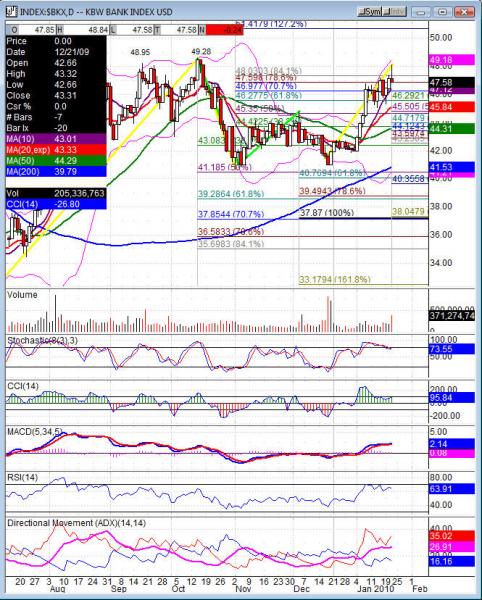 INDU (Dow) closed -213.27 at 10389.88. Support: 10316.10 38.2%, 10280.10, 10194.40. Resistance: 10467.50, 10511, 10552.80, 10594.60, 10654.10