Friday closed the day with a modest win on heavier volume to close out the week. The week was split with the NDX and COMPX closing with a small win and the SPX and Dow closing slightly off the prior weeks close. It was a really narrow range throughout the week and upcoming shortened week is likely to be more of the same. The TRIN closed at .60 and the VIX at 21.68. Gold closed up $4.60 at $1112 and oil up 45 cents to $73.10 a barrel.
The Dow left an engulfing candle on the week and has the RSI, CCI, Stochastics and MACD all trying to turn down. Another week down confirms that engulfing, but keep in mind we need a full week to see that. The SPX weekly is sitting with the MACD flat, CCI dropped just under 100 line, RSI at 63 and stochastics still open to the upside. The Nas 100 and Nas Composite closing higher have the MACD flat, RSI at 67, stochastics in the high 80's with room to still move and the CCI just over 100 line. The Nasdaq fared better on the week, but overall this was a narrow week with very small intraday ranges.
With the holiday's now upon us the market will have some hit and miss participation. Seasonal tendency for the market is to be bullish during the holidays. The Santa Claus rally is usually looked to rally the last five days of the month and into the first two into January. Tech has led the race to the upside and continued to stay strong last week. Friday financials came alive and left a possible bullish engulfing off the swing low. Financials have lagged this move and sat in range, to see that break would be what the market needs to see the 2009 highs break. That would be just enough fuel.
I expect Monday and Tuesday to be lighter volume, but tradable for us. Wednesday and Thursday are likely to be very light and that can be a different type of environment. Light volume can shift things around easily so picking our spots will be important. Thursday is a half day and Friday the markets are closed.
Economic data for the week (underlined means more likely to be a mkt mover): Monday nothing due out. Tuesday 8:30 Final GDP, 8:30 Final GDP Price Index, 10:00 Existing Home Sales, 10:00 HPI m/m, 10:00 Richmond Manufacturing Index. Wednesday 8:30 Personal Spending, 8:30 Personal Income, 9:55 Revised UoM Consumer Sentiment, 9:55 Revised UoM Inflation Expectations, 10:00 New Home Sales, 10:30 Crude Oil Inventories. Thursday 8:30 Core Durable Goods Orders, 8:30 Unemployment Claims, 8:30 Durable Goods Orders, 10:30 Natural Gas Storage, early close 1:15. Friday US markets closed.
Some earnings for the week (keep in mind companies can change last minute: Monday after the bell JBL. Tuesday pre market PRGS and after the bell FINL, MU, RHT, TIBX. Wednesday pre market AM and nothing after the bell. Thursday nothing pre market and CRI after the bell. Friday US markets are closed.
NDX (Nasdaq 100) closed +29.09 at 1807.36. Support: 1779.32 fills gap, 1761.36 50dma, 1714.77 Resistance: 1815.60 2009 highs, 1824.56, 1860.18, 1887.98 70.7% on weekly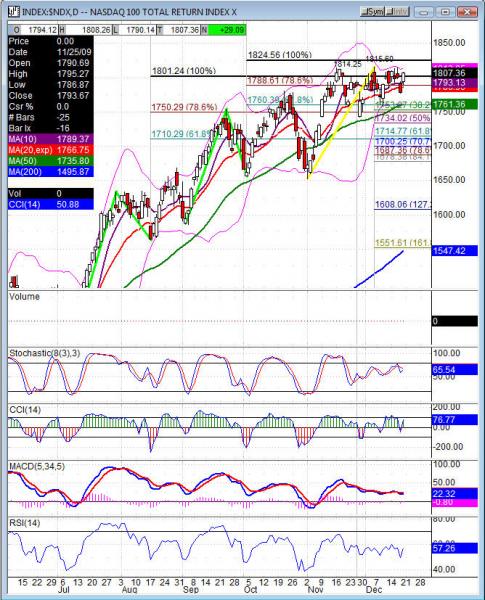 SPX (S&P 500) closed +6.39 at 1102.47. Support: 1092.38, 1088.61 50dma-1082.85 38.2%, 1062.31, 1047.83 Resistance: 1108.44, 1119.13 2009 highs-1121.44 50% on weekly, 1127.19-1131.86, 1158.76, 1228.74 61.8% on weekly.