Silver as Bright as Gold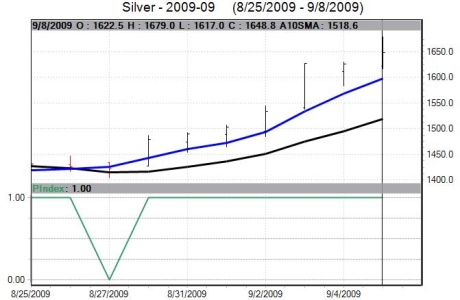 Source: VantagePoint Intermarket Analysis Software
To see more FREE recent market predictions for energies go here!
The market increased by 195.5 dollars.
195.5 dollars

=

9,775 USD per contract (About 6 trading days)
When the

blue line

(forecast) crossed above the black line (actual), VantagePoint predicted the market to trend up. The Neural Index at 1.00 also indicated an expected up trend.
Silver prices are now up about 40% this year, with the metal hitting a 13-month high on Tuesday.
Silver, gold and crude oil are all mainly priced in U.S. dollars, so traders tend to see them going up in the short-term when the dollar is weak.