At first glance you may have the urge to run as binary options in general aren't known to have a stellar reputation. Unfortunately there's been quite a bit of misconception and misinformation concerning binaries.
I must admit the first time I heard about binary options and did some research on it. I didn't hear too many positives concerning these instruments. I heard stories about offshore accounts in foreign countries where it was easy to establish an account (they would even take a credit card to do so) but not very easy to get your money out or make a withdrawal. Next I heard stories of identity theft as "those firms in Cyprus aren't regulated and don't abide by our rules."
THEY ARE REGULATED
Let me set the record straight.
Nadex (North American Derivatives Exchange) is owned by IG Group from London, but operates as a standalone entity under US regulation and is in fact a US based exchange. Nadex is regulated by the CFTC and as anyone whose traded options or futures know the CFTC is not known to be lenient with any broker-dealer who violates a rule. The CFTC demands that each member firm must, at the end of each trading day prove solvency. All funds with Nadex are in US dollars and anyone who opens an account must show where those funds came from.
TWO TRADING CHOICES
In terms of the instruments Nadex offers, they come in two flavors: binaries and bull spreads. A binary option is a short-term intraday, daily or weekly contract that has a time element associated with it. The time element could be as short as two-hour durations during the course of any trading day. For example 8 a.m. EST – 10 a.m. EST, 10 a.m. EST – 12 Noon, 1 p.m. EST – 3 p.m. EST, etc. Each binary option contract has a floor (0) and ceiling (100) threshold and is priced in increments of 100 points.
Each binary contract will show the profit and loss potential prior to initiating the trade. Each point is worth one US dollar. So as an example if I opened a trade for a contract and got in at a strike price that is worth 40 points, then I'm spending $40 dollars per contract to open that trade. If that strike price is exceeded at the time of expiration, then I would earn $60 dollars per contract as my profit.
A bull spread also has multiple expiration times up to one day. This gives the trader flexibility to put on a trade either pre-market or early in the trading day, and have total control over the position. How does this help the trader? If the market goes below the point of entry you will NOT get stopped out and if the market rebounds, your contract(s) are still valid. Compare that with traditional futures whereby you get stopped out and then have to initiate a new trade.
I asked Dan Cook, director of business development for Nadex.com where he thinks the market potential for binary options and bull spreads will go in the time to come. Nadex believes that they have a market that's in its infancy and they certainly have a long way to go, but clearly the potential is there. Nadex started as HedgeStreet in 2004 and has seen enormous growth during this period. They are also adamant about serving the retail customer. From my own perspective, I've contacted their customer service and I have never spoken with more helpful people. They recognize that this is a new endeavor to most people and will take whatever amount of time is needed to explain binary options and how they work.
Growth curve using Google search trends: binary options have begun to go parabolic while Futures (shown) Forex, and ETF's have been showing lower amounts interest.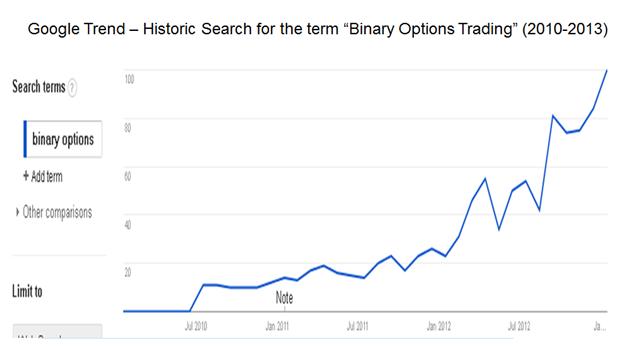 THE NUTS AND BOLTS
Another aspect that I should bring up is when someone opens an account with Nadex; there are no settlement fees for trades that are not profitable. Commissions are .90 cents per contract ($9.00 maximum per ticket) and there are no brokers involved. In other words you're dealing directly with Nadex, no in-betweens. Nadex offers a 10 day trial of their platform and its well worth the trial just to bring someone up to speed. Additionally as a trader you can open an account with as little as $100.00.
Oftentimes in this industry, we talk about the next big thing or the next new initiative, if Nadex isn't it, it sure comes close.
#####