Yesterday
As of Wednesday the S&P500 large cap index had gone 1,400 days – three years, nine months and three days – without a 10% correction. That isn't even close to a record – during the dot.com bubble the S&P went seven years without a major correction – but it is long enough to make lots of investors nervous about a Bull market that is more than six years old, and counting.
There isn't anything immediate that says run and hide. Yesterday the S&P500 mini-futures (ES) ran up sharply in almost volume-less overnight trading, and moved higher after the open, aided by a bad-news-is-good-news ADP employment report. It have back half the gain later, and closed at 2093.75, or 10.75 points above the previous close.
The price action wasn't that impressive; but the futures closed above the 20- 40-day moving averages, and above Monday's low. Our tentative, possible, maybe bullish chart pattern is still alive.
Today
The 2080-78.50 support zone is still important for today. Today the 2083 gap may get filled if ES fails to move above 2098.50. The range may also get narrow (from 2098.50-2078.50) today to wait for Friday's Non-Farm payroll. If ES can't break out from the top range 2136 level by Friday's close, we will be watching for a short-term pullback next week.
Major support levels for Thursday: 2054-55, 2035-32, 2025-23.50, 2018.50-16.50;
major resistance levels: 2128.50-29.50, 2134.50-36.50 and none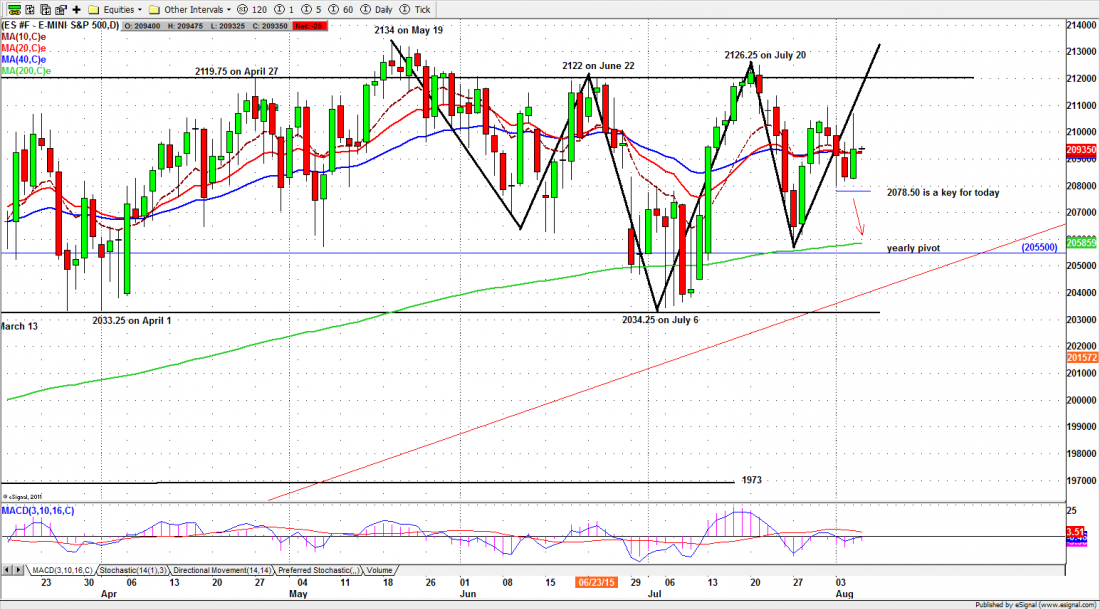 For more detailed market analysis from Naturus.com, free of charge, follow this link
http://www.naturus.com/mailing-list-signup-page/