Dow Jones Commodity Index Fund – This index tracks the entire commodity market as a whole. Over the past two years we have seen commodities drop in value substantially. The good news is that we could be seeing prices rise going forward from here.
2009 has been a fantastic year for trading commodities with the market bottoming and starting to move higher. This commodity index clearly shows a Cup & Handle pattern and is looking ready to breakout in the coming weeks. The C & H pattern is the best chart formation we could get. Breakouts from these patterns generally provide a rally which can last months at a time.
Let's take a look at what kind of opportunity looks to be just around the corner.
Dow Jones Commodity Index Chart – Weekly
Commodities appear to have bottomed and are getting squeezed into the apex of the bullish wedge. This index could easily rally to the 180 level which is about 35-40% Gain.
DJP iPath Commodity Index Fund – Weekly
After reviewing several different commodity index funds I like the characteristics for DJP the most. There is enough volume traded which makes for a smooth trading fund on an intraday basis when looking at the 10 minute chart. Several other funds were choppy and thinly traded.
This is Exciting – Everyone knows how most commodity funds vary from the underlying commodity price, well this fund trades identical to the index. What does this mean? It means we can trade the DJP commodity index fund for short term and long term positions because there isn't any price decay over time.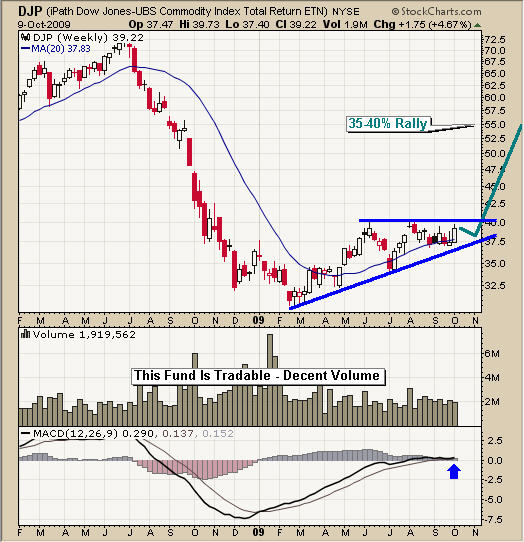 Performance Chart of Commodity Index & Fund
This chart goes back almost 2 years. As you can see the % change for the index and the fund are virtually identical. We do not need to worry about Contango with this fund.
Major Commodities Breaking Out or Bottoming
Gold, Crude Oil and Natural Gas are highly traded commodities and will play a large role in the direction of the commodity index.
Gold is breaking out to a new high – Bullish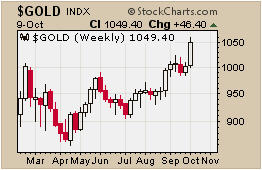 Crude Oil is consolidating in a bullish wedge – Bullish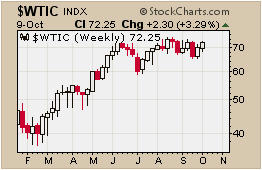 Natural Gas is trying to bottom and should move higher into the winter – Bullish
Dow Jones Commodity Index Trading Conclusion:
Money has been moving into the commodity sector since March of this year. As a technical trader this opportunity jumps out at me. I wanted to share it with fellow traders because this could be once of the easiest trades of the year if the index breaks out in the coming weeks.
If you would like to receive my Free Weekly Trading Newsletter please visit my website: www.GoldAndOilGuy.com
Chris Vermeulen
Disclaimer: I do not own DJP fund.