ALARON LAS VEGAS US EQUITY FUTURES REPORT 05/27/2009
EQUITIES FALL, TAKING CUE FROM BONDS, AS SUSTAINABILITY OF FUNDING FOR ECONOMIC RECOVERY COMES INTO QUESTION.
US EQUITIES returned a significant portion of Tuesday's gains after concerns regarding the seemingly unstoppable rise in US government bond yields spurred a move away from riskier assets. The market expressed concern that the economic recovery could stall as businesses and consumers could face higher borrowing costs. The seemingly unending supply of government debt coming onto the market place spooked investors, despite the positive reception of Tuesday's and Wednesday's Treasury auctions and a near record jump in consumer confidence. Like most commodities though, in the end it essentially boils down to the notion of supply and demand. The market appeared to be looking ahead and noted a point in the future where inflation and the lure of higher yielding alternative investments will overcome the government's ability to support a low lending rate environment.
The decline was broad based with manufacturing, retail, and technology stocks falling on fears that the thaw in the credit freeze may slow as rates increase. Trading was relatively light. General Motors also weighted heavily on equity sentiment, despite its near nonexistence market cap. The "carmaker?" failed to reach an agreement with its bondholders, suggesting that declaration of bankruptcy is only days away. Equity markets are likely to enter a period of uncertainty this week as concerns regarding the employment picture will take center stage again when the government reports on May unemployment figures and nonfarm payrolls.
Technically, June Dow Futures continue to range trade, closing slightly above a key support of 8260. The market continues to range trade without much clear direction. A break through support should set up a test of the 8090 level. Market is offering conflicting signals, as slightly higher lows compete with a pattern development that offers more support levels on the downside to retrace to before trying to renew a longer term bull market. Resistance for the contract sets up at 8575.
| | | | | | |
| --- | --- | --- | --- | --- | --- |
| EQUITY RANGES | OPEN | HIGH | LOW | | CHANGE |
| DJM9 (JUNE DOW) | 8470 | 8480 | 8275 | 8297 | -164 |
| SPM9 (JUNE S&P) | 909.20 | 912.70 | 890.50 | 892.50 | -16.20 |
| NDM9 (JUNE NASDAQ) | 1408.00 | 1429.00 | 1397.00 | 1404.00 | -6.75 |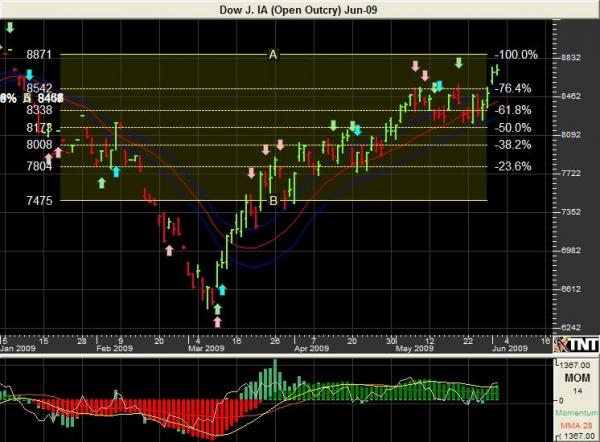 Prepared by Rich Roscelli & Paul Brittain.
Past performance is not indicative of future results. The information and data in this report were obtained from sources considered reliable. Their accuracy or completeness is not guaranteed and the giving of the same is not to be deemed as an offer or solicitation on our part with respect to the sale or purchase of any securities or commodities. Alaron Trading Corp. its officers and directors may in the normal course of business have positions, which may or may not agree with the opinions expressed in this report. Any decision to purchase or sell as a result of the opinions expressed in this report will be the full responsibility of the person authorizing such transaction.