You should expect a US economic boom in 2015. All the signs are pointing to it. The economic trends are up, led by a positive outlook and forward momentum for US labor. All together, these things add up to an economy that, by many economist accounts, is growing at a pace faster than anticipated. There has been a recent slump in activity, but this is nothing more than a seasonally expected lull occurring in tandem with the end of the year and the post-holiday period.
New data is already pointing to an uptick in January activity that is in line with longer-term trends and pointing to a continued increase in US GDP. Now, international conditions are a concern, but not overly so, as they have only a small impact on the largely domestically driven US economy.
I could sum up all the data that has accumulated over the past year, but it all boils down to GDP. Over the past year, positive economic trends have led to an increase in GDP that has not only been strong, but stronger than expected. These trends have been led by labor, slow to take hold, but they have resulted in net improvements, such as unemployment at 5.6%, job creation trending near 250K monthly, retail sales trending higher, manufacturing expanding, and more quality jobs being created.
The Kansas City Federal Reserve's composite Labor Markets Conditions Indicators latest reading suggests not only are labor trends on the rise, but that momentum is increasing and at the highest levels ever. This should not be surprising, due to the trend in upward revisions not only in NFP but in GDP as well.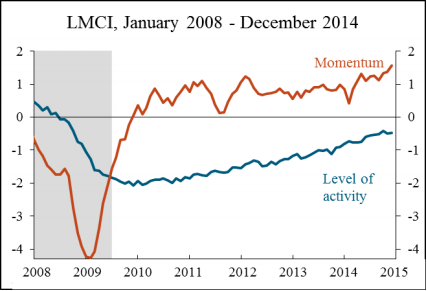 Looking forward, the outlook is very good. The Survey of Business Confidence, conducted by Moody's and Mark Zandi, shows that not only did US businesses end 2015 at record high confidence levels, the forward outlook into 2015 is especially strong. Other indications, such as the Empire State Manufacturing Survey and Michigan Consumer Sentiment, show the outlook is good as well.
The Empire State survey rose to its highest levels since 2012 at start of this year and Michigan Sentiment is at its highest levels since 2009. All reports show that hiring remains steady, as does the number of hours worked. There was a slight dip in wages recently, a closely watched gauge of labor market strength, but that could easily be attributed to job growth at lower levels.
We know there is job growth, but if the average new job pays less than the average hourly earnings of roughly $23, then the average will come down. The important thing is that jobs are being created as a result of economic improvements, and this helps the market gain momentum.
The Trends Are Good But Where Is The Boom?
So, where and why will there be a boom? The answer lies in the US consumer and US consumer spending. The economic trends are broad and point to slow and incremental improvements across the board. This broad and slow improvement makes it hard to see boom when you look at any one geographic region. Eventually, the net improvement in consumer confidence and consumer spending will be felt among businesses in the consumer discretionary, staples and retail segments.
As with other data, retail sales dipped in December from the previous month. Again, this is seasonally expected. What is more important is the long term trend. On a year over year basis, total retail sales were up 3.2% in December 2014 versus December 2013. On a year versus year basis, total retail sales were up 4% in 2014 and the this is not likely to stop.
The caveat is that there are still headwinds for the consumer. Yes, there are more jobs, and, yes, more people are working, but don't forget about the Affordable Care Act. 2015 will most likely see an increase in compliance with the law, which means more "passed-on" expense for workers, which could have a negative impact on spending power. Anytime you add a new bill that is $100, $200 or $300 a month, it has an impact on spending.
The plus is that demographic trends are also providing a tailwind by increasing the size of the working-age population. This means that even if consumers feel the sting of increased costs for health care, there are more consumers with jobs, so at least the staples sector will do OK.
And there is one more thing to consider. Energy prices are low and if expectations are met, they will go lower and stay low all year. Estimates for 2015 have oil prices averaging at least 25% lower than they were at the start of the year. This is a considerable benefit to the consumer and the economy in general.
My advice? Bet on the consumer – there are a lot of them out there. More and more of them have jobs every day and those jobs translate into more consumer spending.
Related reading from this writer …