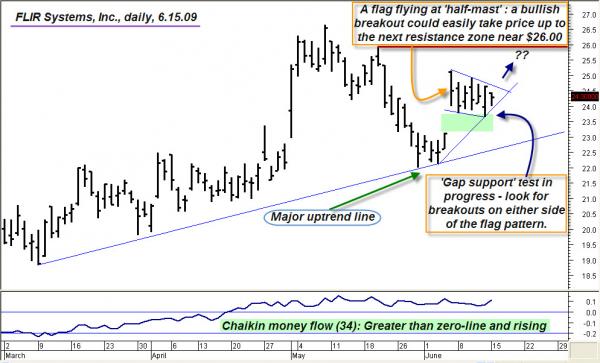 FLIR Systems, Inc., (FLIR), a Nasdaq 100 index component stock, has printed a bullish flag pattern, one that has occurred in the aftermath of a recent price gap. The daily price chart pretty much says it all – the stock is in a substantial uptrend, its Chaikin money flow (34) is well above its zero line and rising, and, of course, the gap higher that preceded the consolidating/retracement bullish flag pattern is also telegraphing that FLIR's next move may be up and out of the flag pattern toward the next significant resistance area near $26.00.
Aggressive traders might want to place a buy stop near the top of the pattern, near $24.67, immediately instituting a stop loss near te lower edge of the pattern near $23.64. With an initial price target near $26.00, this trade setup (if triggered) offers a nominal risk to reward ratio of better than 1.31 to 1. Of course, if FLIR does manage to complete the bullish breakout, it's always possible that the stock could gain serious traction, moving past $26.00 all the way up to the next resistance area at $26.65. Using something as simple as a 3-bar trailing stop of the daily lows could be a way to lock in profits, should this anticipated breakout take place.
Of course, if the broad markets (and other closely correlated stocks such as GCI, ALY and AJG) are also rising (should FLIR gets close to $24.67), that would be an excellent means of helping confirm this long breakout setup.