Bottom picking is a dangerous game, but you can make it less dangerous if you combine your "script" with some objective technical analysis.
STAY OFF THE BEACH
Using the term "script" as a verb translates to "planning, devising, or making arrangements for," i.e. Morgan Stanley (MS) has formed a bottom and will soon break out.
But if that is all you use to trade, then your next script may read, "I now collect cans on the beach because I lost all my money in the market."
CHART CLUES
So let's take a look at MS and see what technical points help to confirm our script.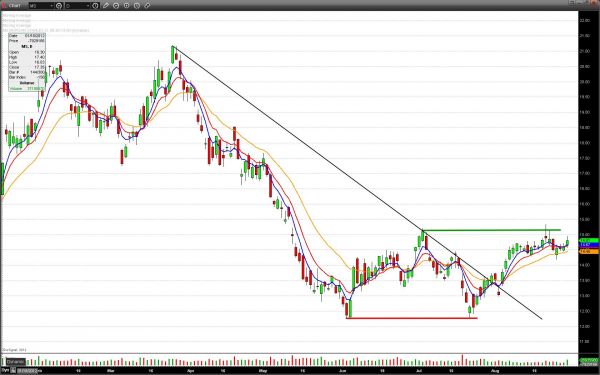 The first positive sign is that the stock formed a double bottom around the $12.30 area on June 4th and July 23rd, indicated by the red support line. Shortly after that second bottom, a downtrend line beginning in late March was broken which also coincided with the recapture of some key short-term moving averages.
BASING ACTION
Price is now basing under the green resistance level around $15.10 which is bullish. This level has been tested four times and each time it is tested the chances that it will be broken on the next successive attempt increase. These technical indications help to support the script that MS has found a tradable bottom, but ultimately price and volume will be the final determination to act.
GETTING IN
A break of the $15.20 level with a spike in volume would set up a good entry for a swing trade. You could put a stop in below the resistance now turned support level roughly 50 cents below your entry depending on your risk tolerance.
TARGET
A reasonable target based upon the extension from the three-point range it would be breaking out of takes it to the $17.75-$18.00 area for a risk/reward ratio of about 1:6.