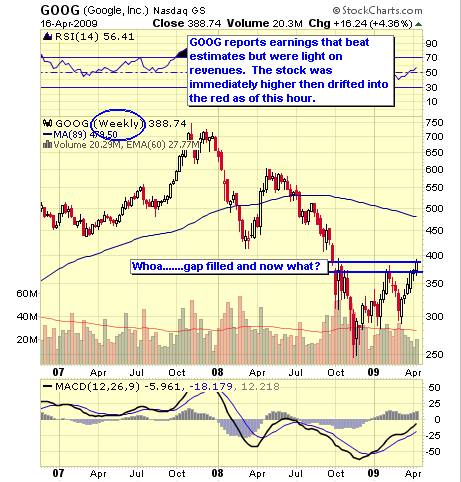 Never before have such important earnings moved the market so little!
Last night we heard from GOOG who once again pulled a rabbit out of the hat with an 10% increase in revenues as there was a huge surge in searches relating to unemployment, bankruptcy, foreclosures, loans, alcohol and gambling proving that there is always someone who can fiddle while Rome burns. We are thrilled, of course, as we played GOOG to flatline and it looks like we'll get our wish as my trade idea on Google in yesterday's Member Chat was:"May $400 calls for $17.25, selling Apr $400s for $9 and May $370 puts for $15.55, selling Apr $370 puts for $7.15." We'll see how it actually performs but anything between $370 and $400 should be a very nice win on this trade!
As David Fry's chart indicates, GOOG was already driven hard to fill it's Octobergap and faced significant resistance at $390. Also facing significant resistance at Google is their market share, which was 79.9% in October of 2008 and is 81.39% as of March. Another negative that came out of the CC was that the company is getting lower click conversion rates, possibly indicating that this form of advertising is being ignored more often by the users. In fact, AdSense revenue was down (3%)for the first time ever. As GOOG is still very much a one-trick pony, the analysts on the line pressed management hard about how they could monetize other products and what new revenue streams they would be developing. To Google's credit, people have been worried about this for 2 years yet, despite the recession, the company did post their best quarterly profit ever and they did it the way well-managed companies do – by watching the bottom line.
GE handily beat low expectations of .21 per share earning .26 despite revenues being down 9% from last year. "Only" a 36% drop in quarterly profit is good enough for the bulls and GE is up 5% pre-market. Don't get me wrong, I love GE and we've been playing them positive for quite some time but this is the BEST company in the market. GE barely scraping by is no reason to stage a broad market rally! Another best of breed is CitiGroup and they also were "less worse" than expected with losses of just .18 per $4 share for the quarter but analysts had projected a .34 loss so yay, I guess… Investment…