In July, the markets overcame a bearish employment report early in the month to close on a strong note. In fact, the major stock indexes have seen the best five-month run since 1938. The markets seem to be telling us we are out of recession, but is this enthusiasm premature? The July employment report is due out on Friday, August 7, and it will be interesting to see whether it spurs any doubts whether spring's "green shoots" have taken root.
If you would have predicted five months ago the stock market would see its best run in 70 years, you'd probably have trouble finding anyone who would believe you. But that's where we are at.
For a while now I've felt the stock market needed a healthy correction, and we got a small one in early July after a bearish employment report spooked investors. The front-month S&P 500 futures declined to 865.50 on July 8, and crude oil slipped to just under $60 a barrel on July 6 after rallying above $73 in June. Crude oil has taken its cue from the stock market this year, as crude oil has also been a barometer of economic health and investors' appetite for risk. The corrections in both markets turned out to be minor. Both markets quickly snapped back, as crude oil bounced back above $70 and the S&P 500 surged above 1,000 to a new high for the year. But as another employment report looms, we'll see if it's time to take another step back in early August. Let's look at some market specifics.
S&P 500
Clearly we can see how strong the S&P has been. For the month of July, the Dow Jones Industrial Average was up about 8.5 percent, the S&P 500 7.5 percent, and the Nasdaq almost 8 percent. For the year, the Nasdaq has been the leader, up 25.5 percent, so keep your eye on the Nasdaq, even if you don't trade it.
We just finished the latest quarterly earnings season, and better-than-expected results helped drive stocks to new yearly highs in early August. About three quarters of companies in the S&P 500 have released second-quarter earnings per share that have beaten analysts' estimates, according to data compiled by Bloomberg.
That seems bullish on the surface, but not to me. While earnings may have looked better, they have not been driven by profit growth. To get improved earnings, companies were laying people off, and turning to cost-cutting measures. Turning down the lights doesn't generate sales. It's artificial growth. And, companies also had been trying to lower expectations going into reporting season.
I'm looking for a correction in the stock market as I think it's a bit too soon to get overly optimistic based on these results. If you caught some of the bullish move in July and early August, I recommend you consider taking some profits. I think the most likely scenario for the stock market will be a correction in August, and a resumption of the rally to new highs. The S&P 500 futures could slide back to 900. I'd recommend getting short September S&P futures near 1,000, 1,020 (if we get a pop) or at 995, and put a stop at 1,052 in case we get some really bullish news. Pivot trading will be key for the month of August in this market.
The early July correction was short-lived, and not as strong as I would've expected. Despite the bearish June employment report, I believed (and still do) that the green shoots are not dead. We've had five months of gains, and the market needs a few steps back. We may get another correction in August (in fact I think it's more likely than not) but I remain long-term bullish on the stock market.
The consensus forecast for Friday's July employment report is for a 300,000 decline in nonfarm payrolls, and the employment rate is expected to have risen to 9.7 percent in July from 9.5 percent in June. If we see 400,000 or more in nonfarm payroll losses, the stock market is likely to take a nosedive, and we should see a flight-to-quality bid in the price of Treasury bonds and notes.
On the other hand, a much better-than-expected number could push September S&P 500 futures up to 1,040 in a blink. Personally, I don't see any big improvement happening this month and I think it's more likely investors will view the report as a reason to take profits. If nonfarm payrolls decline in the range of about 250,000 – 300,000, the markets should continue to plug along like they have. Stocks would grind higher on other positive fundamental developments, and the U.S. dollar would work lower. Watch the hourly workweek numbers as well in the report on Friday. A reading of around 33 would not good, while a pop to 36 would be encouraging to stock market bulls. These reports should set the tone for the next 2-3 weeks.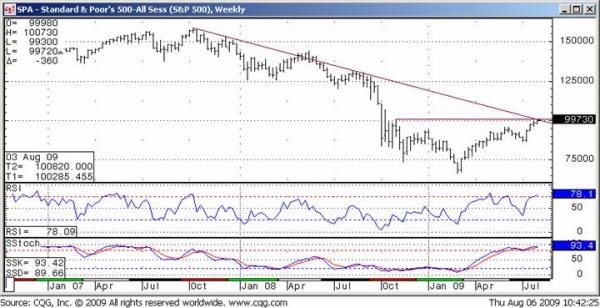 U.S. Dollar
As always, commodity traders should watch the U.S. dollar for direction. If the stock market takes a step or two back in August, we should see the U.S. dollar firm up on the premise that risk-aversion could heighten again, even if temporarily so. Looking at a weekly chart of the ICE U.S. dollar index futures, which represent the dollar's standing against a basket of six global currencies, we can see how the chart of the dollar contrasts to that of the S&P 500.
The dollar hasn't been this low since September 2008, near the beginning of the financial market collapse. We saw a flight into safe-haven instruments, and now we are seeing a return of the appetite for risk. If the outlook for the economy worsens, consider buying the dollar index futures. But for short-term traders, I'd be looking for a place to get short right now. You might want to wait for a bigger rally to 80 – 82.
If you are bearish the dollar, keep in mind that foreign countries don't want to see the dollar collapse, because it impacts their exports and makes them more expensive. Commodity and export-driven economies (such as Canada) may talk down their currencies and talk up the dollar. This week Jim Flaherty, Canada's finance minister, voiced concerns over "rapid changes in the valuation of the Canadian currency" and said steps "could be taken" to dampen its strength.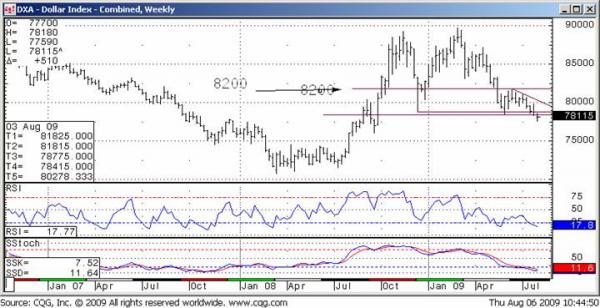 The 10-year Treasury note futures have been trading in a range of 115 – 118, except for a spike up above 119 on the post-employment panic in early July. I see this range continuing in August, and as a trader, I'd be looking to play the range, buying near 116 selling near 117. If the market closes for two days (or on a weekly basis) above 118 or below 115, then we might have a trend change.
If the market sees a breakout, just go with the momentum. In a normal market, Treasuries represent a fixed rate of return, and stocks represent an opportunity to better that return by taking on more risk. We have a lot of supply, and at some point, Treasury yields will start to climb as stocks continue to rally. We've seen yields average around 3.5 percent. As we see the economy start to expand, companies will start hiring again. The flight-to-quality will be reduced, and yields will edge up—but I don't see a big trend in Treasuries August, we are more likely in a trading range. The market is a bit unsure right now and in a consolidation phase until we see what comes next.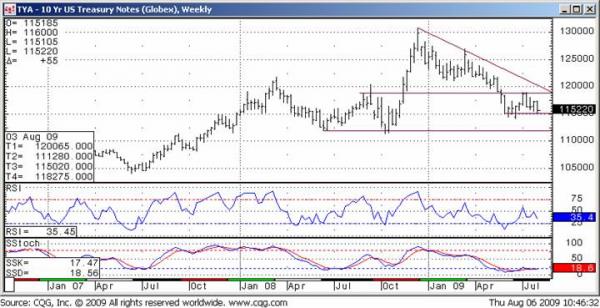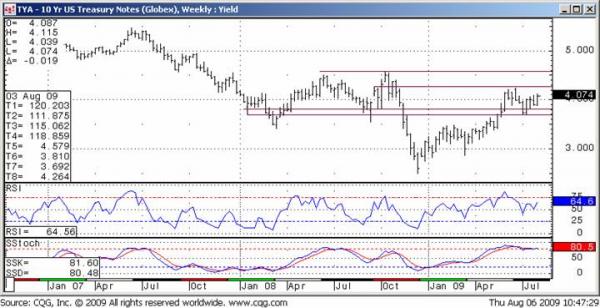 Gold
I was bullish gold last month, and I still like gold. There are several reasons to be bullish gold—as a currency play, a safe-haven play and as an inflation play. Gold also tends to be strong seasonally until October, so I'd be looking to buy dips if the charts and fundamentals support it. Gold couldn't break $900 an ounce in July, it may be a little overdone above $960, but I'd still want to play the market from the long side. Look for opportunities. I would recommend waiting for a correction in gold to $940, $930, $925 to get long in August. I don't think any correction will be severe though.
Like crude oil, gold will follow the S&P—but only at first, Eventually it should break away and investors will turn to gold for other reasons. Gold should benefit as a safe haven if stocks start to really sink again, and if the economy starts heating up, gold should benefit as an inflation hedge.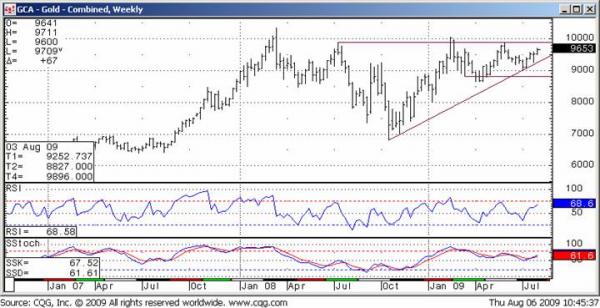 The Big Question — Recession
By any definition, the economy has been in recession. We may even have met some definitions of depression. We've seen two or more quarters of declining gross domestic product (GDP), we've seen a decline in business activity and consumer spending, and a rise in unemployment.
Are we coming out of recession? I think the answer is yes. But what kind of recovery, and the timing and the velocity of it–those remain questions. We know what the Federal Reserve has done to stimulate the economy, and we know what the government has done. I don't think the recovery will be like a "V" shape, it will be more like a rounded bottom. It may take some time.
Overall in August, we are in a-wait-and-see mode to determine how much these stimulus programs are working. Yes, I think we are coming out of recession. Yes, we'll probably see some market ups and downs. A gloomy employment report could have people saying we are still stuck in a recession. But I don't think that's the case. I think perhaps some investors may have gotten a bit too optimistic, they are starting to harvest the green shoots before they are ready.
These are just a few of my thoughts and ideas for the month of August. Please feel free to call me to discuss these or other markets, and to incorporate specific trading strategies for your account size and risk tolerance. Good luck and good trading!
Jeff Friedman is a Senior Market Strategist with Lind Plus. He can be reached at 866-231-7811 or via email at jfriedman@lind-waldock.com. You can follow Jeff on Twitter at www.twitter.com/LWJFriedman. Join Jeff for his monthly webinar, Friedman's Futures Forecast, by visiting Lind-Waldock's events page. You can view an archived webinar of this forecast at www.lind-waldock.com/events, where Jeff covers even more detail.
Past performance is not necessarily indicative of future trading results. Trading advice is based on information taken from trade and statistical services and other sources which Lind-Waldock believes are reliable. We do not guarantee that such information is accurate or complete and it should not be relied upon as such. Trading advice reflects our good faith judgment at a specific time and is subject to change without notice. There is no guarantee that the advice we give will result in profitable trades. All trading decisions will be made by the account holder.
Futures trading involves substantial risk of loss and is not suitable for all investors. © 2009 MF Global Ltd. All Rights Reserved. Futures Brokers, Commodity Brokers and Online Futures Trading. 141 West Jackson Boulevard, Suite 1400-A, Chicago, IL 60604.