Gold has been the asset to own in the past year, and now people are starting to question it. On the other hand, natural gas has finally seen a spark and investors are wondering whether it's time to buy this beleaguered market. The picture for crude oil is a bit more complex.
Gold
Gold has been the asset to own for the past year. Now that gold's seen a correction, people have started to doubt it. I think gold still looks bullish in the coming year, and if you are a long-term investor, I recommend considering dips as opportunities to buy at cheaper levels.
Technical analysis have noted $1,050 an ounce as a level that should act as support for gold. That represents a 61.8 percent Fibonacci retracement of gold's run to new record highs above $1,200 an ounce this past month. On the chart below, you can see how the start of the trend back in late 2008 represents the bottom at zero, while the peak high is 100 percent. The lines of 50 percent, 62 percent, and 38.2 percent represent key technical levels of support. Some analysts expect gold to find support near $1,050 on corrections, and bounce from there, based on these retracements.
I think once the U.S. dollar's recent rally loses stream, it will be time to buy gold again. The dollar and gold have a strong inverse relationship, and if you think the dollar will again weaken, gold should strengthen. Overall, I think there is a still a bullish case to made for this market.
Gold Futures w/Fibonacci Levels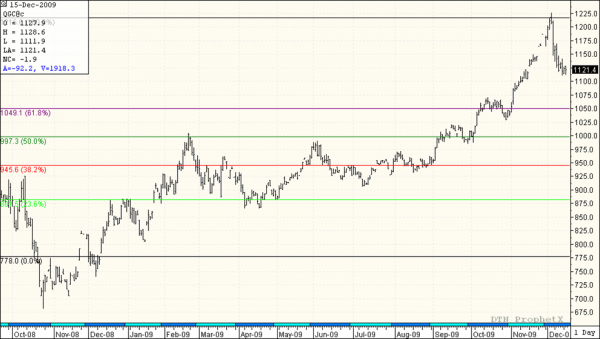 Crude Oil
Crude oil has been a pretty crazy market over the past year and half, peaking over $145 a barrel in the summer of 2008, then falling under $35 in early 2009, and now trading in the middle of the range around $72.
The market had shot up rather quickly from its early year lows, mainly on speculation the global economy would recover. However, I think prices got away from the reality of supply and demand. Participants were speculating on hope for the future. For the short-term, I see a slight bounce in crude oil likely, based mainly on short-covering. We are seeing crude oil rally during the December 16 trading session, following the latest data from the U.S. Department of Energy, showing crude oil supplies fell 3.69 million barrels in the last week.
However, I'm not yet convinced the fundamentals support oil at much higher prices. People look at a lot of indicators and methodologies in terms of analyzing crude oil. One that I find interesting is wells drilled. In October, this number increased from 1,175 to 1,227. That's a pretty substantial increase, although still not at the level of last year at the same time (when the price of crude was also a bit higher). That's telling me more producers are coming on board at these prices, and we are increasing supply.
World supply for crude oil has been outpacing demand. In the next chart, the red line represents demand, and the white line supply. We still have an abundant of supply of crude oil, much of it waiting offshore to be used. When supply is greater than demand, prices typically drop. The December 9 inventory report showed a drop of almost 4 million barrels. However, crude oil sold off afterward. Why? Crude oil market mechanics aren't as simple as just this one statistic. You also have to look at distillate and gasoline levels, which stem from crude oil. Both of these products saw inventory increases in the December 9 report, and gasoline inventories also increased in the December 16 report. So although we have seen a drawdown in crude oil, it is sold to distillate and gasoline producers, and if they can't sell their products to the end consumer, we have a build up in these products.
World Oil Supply/Demand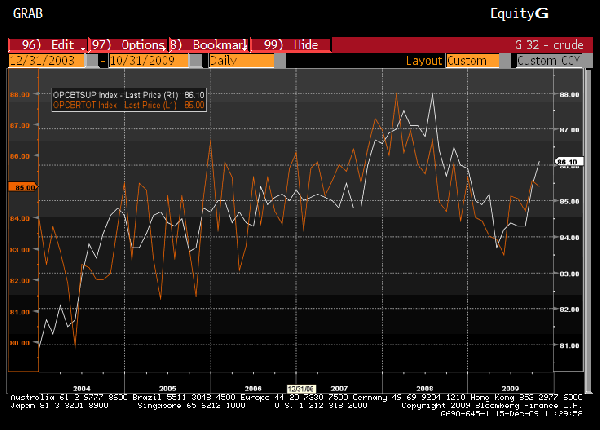 In addition, the latest Commitments of Traders report from the Commodity Futures Trading Commission (released every Friday afternoon) showed the non-commercial category had a net long position in futures and options combined of about 141,000 contracts. With speculators and hedge funds long, that tells me if crude oil starts to sell off, there will be likely sell stops accelerating the decline as these players look to exit positions. Knowing where other participants in the market are is a great asset for traders, so I think this report is one worth paying attention to. As long as this market stays below $75, I think it's a good market to short. I see $65 as a downside target in the next few months.
Natural Gas

This market is a pretty crazy commodity, fluctuating quite a bit. Recently, we've seen natural gas move up pretty substantially, rising to its highest levels of the year above $5 MMBtu. The onset of cold weather helped spark the market, and data showing the first drawdown in inventories in some time (64 billion cubic feet) inspired a bigger surge in the past week. It had seemed as though there was so much inventory, it would never be used up, winter wouldn't come, and natural gas prices would remain depressed.
That wasn't the case. Natural gas took off after cold weather set in and a drop in inventories was reported last week. Market participants holding short positions in the market started covering them and getting out, fueling gains. Forecasts call for more cold weather in North America, the main market for natural gas. Temperatures are expected to remain below-average for the next few weeks, which is supportive of further gains.
From a technical standpoint, the slow moving average (18-day in blue), and the fast moving average (9-day in red) shows a cross in early December. Whenever these two lines cross, it signals a good time to buy. Combining the fundamental and technical picture makes me more confident about the outlook.

Natural Gas Futures w/ Moving Averages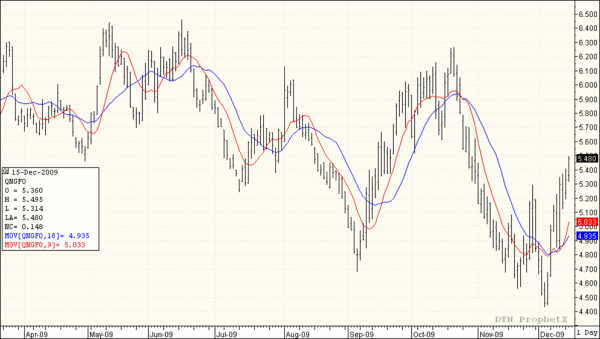 Looking at the Commitments of Traders data for this market, the non-commercial category of traders was net short about 76,000 contracts during the last reporting period. We've been seeing these shorts face stops as the market has rallied, increasing buying pressure. I think we could see natural gas hit $6. If you've got some extra capital, I think now would be a great time to buy natural gas, although I wouldn't recommend getting overleveraged at this stage. There is a large and mini-natural gas contract you can trade, depending on your account size.
Please feel free to give me a call with any questions you have about the markets, and to develop customized trading strategies.
Drew Shaw is a Junior Market Strategist based in Toronto with Lind-Waldock, a division of MF Global Canada Co. Drew is accepting Canadian clients can be reached at 877-840-5333 or via email at dshaw@lind-waldock.com.
The data and comments provided above are for information purposes only and must not be construed as an indication or guarantee of any kind of what the future performance of the concerned markets will be. While the information in this publication cannot be guaranteed, it was obtained from sources believed to be reliable. Futures and Forex trading involves a substantial risk of loss and is not suitable for all investors. Past performance is not indicative of future results. Please carefully consider your financial condition prior to making any investments. Not to be construed as solicitation.
MF Global Canada Co. is a member of the Investment Industry Regulatory Organization of Canada and Canadian Investor Protection Fund.
Futures Brokers , Commodity Brokers and Online Futures Trading . 123 Front St. West, Suite 1601, Toronto, Ontario M5J 2M2.
© 2009 MF Global Ltd. Lind-Waldock, a division of MF Global Canada Co. Toll-free 877-501-5463. Lind-Waldock promises never to sell your information to anyone.