Until about a week ago, shares of Tesla (TSLA) were holding up well, considering that the company is highly valued and lacks GAAP earnings. Tesla is also a lightning rod in the investment sphere; the subject of passionate disputation among bulls and bears. It's actually rare to see this degree of polarization regarding such an innovative company, but the fanfare surrounding its product launches seems to amp up the controversy.
Moreover, investors vary considerably with respect to how much they will pay for future benefits. On the one hand, for those who are 'possibility people,' the dream of "driving forever for free on sunlight" is a motivating concept in the here and now. They get satisfaction simply from owning a piece of a numinous tomorrow.
Indeed, the experience of driving a Tesla is about as close as one can get to a time machine. One is temporarily transported into an alternative future, which is why the company can pre-sell tens of thousands of cars and does not have to advertise. They have the magic.
However, for those who are more oriented to 'brass tacks,' Tesla's mythical prospects are highly suspect and are therefore severely discounted. These folks enjoy pointing out the irrationality of others and Tesla Motors is the effigy for their deconstructivist agenda.
As I wrote on 9/6, although I'm a long-term Tesla bull, I'm not bullish on the stock short term. I noted then that TSLA had an unfilled gap between $225 and $230, which was my immediate target and it has subsequently been filled. Unfortunately for the Tesla bulls, there was not even a hint of support for the stock at that level.
Consequently, one must look for support at lower levels, specifically the Volume Profile Point of Control ($204), which is the gold line on the accompanying chart, and then the unfilled gap around $192.
Bottom-line, although I don't think Tesla is broken, shares are headed below $200. That should shake out weak hands and may present an attractive buying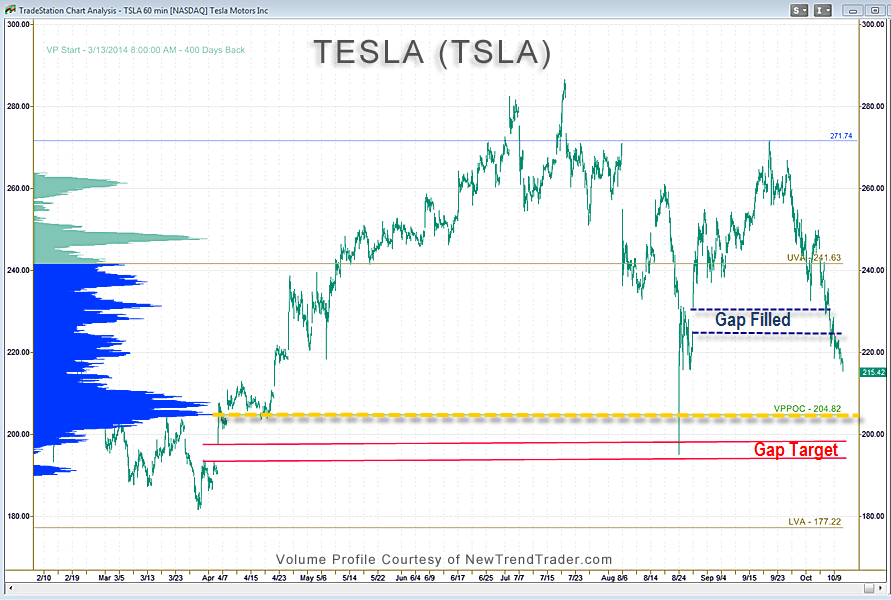 opportunity… if you 'believe.'