The pattern we see on the TrendMap below would generally be supportive of the trends on the higher time frames to the right. A green grid indicates an uptrend for that market on that time frame and a red grid indicates the trend is down.
Given the chart patterns on the higher time frame charts however, the shorter-term trends definitely need to be monitored. There is currently a potential 2-month double top on the Daily GBPJPY chart, a potential 4 month Head & Shoulder top for EURJPY, and the S&P 500 stock index is waffling right around 1000 — the biggest even number in the financial markets.
Should be interesting to see how the trends line up tomorrow following the non-farm payroll report.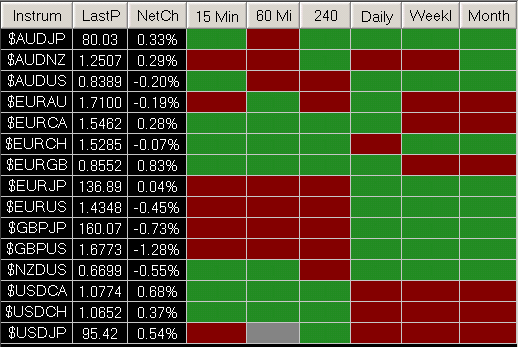 Jay Norris
Brewer FX
Senior Market Strategist and Forex Educator

Contact Us:
Local: 312-896-3930
Toll Free: 800-971-2440
DISCLAIMER: Forex (off-exchange foreign currency futures and options or FX) trading involves substantial risk of loss and is not suitable for every investor. The value of currencies may fluctuate and investors may lose all or more than their original investments. Risks also include, but are not limited to, the potential for changing political and/or economic conditions that may substantially affect the price and/or liquidity of a currency. The impact of seasonal and geopolitical events is already factored into market prices. Prices in the underlying cash or physical markets do not necessarily move in tandem with futures and options prices. The leveraged nature of FX trading means that any market movement will have an equally proportional effect on your deposited funds and such may work against you as well as for you. In no event should the content of this correspondence be construed as an express or implied promise or guarantee from B.I.G. Forex, LLC and Brewer Investment Group, LLC or its subsidiaries and/or affiliates that you will profit or that losses can or will be limited in any manner whatsoever. Loss-limiting strategies such as stop loss orders may not be effective because market conditions may make it impossible to execute such orders. Likewise, strategies using combinations of positions such as "spread" or "straddle" trades may be just as risky as simple long and short positions. Past results are no indication of future performance. Information contained in this correspondence is intended for informational purposes only and was obtained from sources believed to be reliable. Information is in no way guaranteed. No guarantee of any kind is implied or possible where projections of future conditions are attempted.