A common seasonal strategy traders take is to buy heating oil and natural gas futures going into the winter months, anticipating increased demand for these products in colder months will lead to increased prices. However, traders looking to profit from this seasonal pattern should be aware of some detrimental fundamentals conspiring against these commodities.
The monthly graph of front-month natural gas futures makes a bullish natural gas play look enticing; prices are near levels not seen since the late 1990s and early 2000s. Similarly, heating oil is well off its highs from 2008.
Natural Gas Futures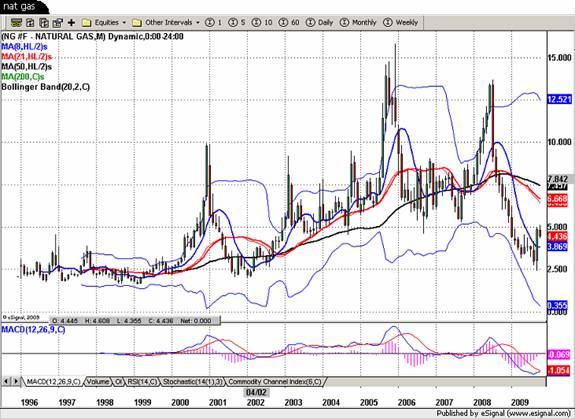 Heating Oil Futures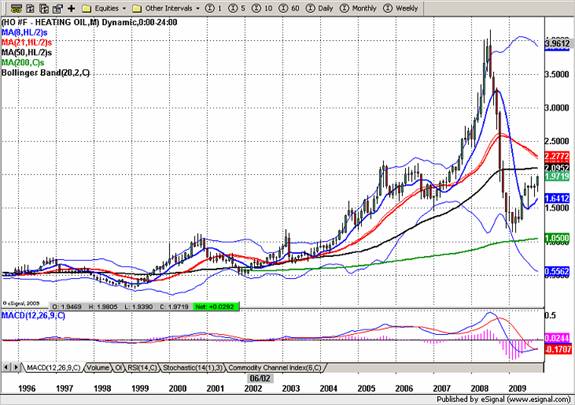 However, the weak economy has dampened industrial demand for both of these products, and as a result, inventories have been built to very high levels.The next graphs show the current inventory levels of both natural gas and distillate, as compared to their five-year averages.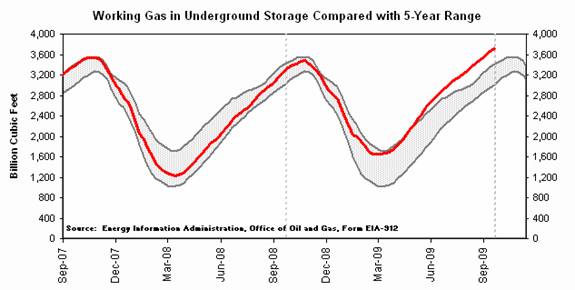 In my opinion, the current high levels of inventories should help limit drastic price increases this winter. In addition, it is worth looking at the term structure to determine what price increases have already been anticipated. You can see from the term structure that between November and February, the market is projecting a $1.30 (or 29 percent) increase in natural gas prices, and a $0.09 (or 5.5 percent) increase heating oil prices. Given current inventory levels and weak industrial demand, it could be challenging for traders on the long side of these contracts.
Natural Gas

Heating Oil

Nov-09

$ 4.41

Nov-09

$ 1.9682

Dec-09

$ 5.33

Dec-09

$ 1.9985

Jan-10

$ 5.65

Jan-10

$ 2.0320

Feb-10

$ 5.71

Feb-10

$ 2.0566

Mar-10

$ 5.67

Mar-10

$ 2.0717
The one bright spot for bullish market participants is the possibility of increased international demand due to the weak U.S. dollar. Below is a monthly graph of the ICE U.S. dollar index futures contract, which tracks the dollar's standing against a basket of six global currencies. As you can see, the U.S. dollar is near multi-year lows. A weaker dollar makes dollar denominated products more affordable for foreigners. This weak dollar could continue to stimulate international demand and help support natural gas and heating oil prices, despite the high inventory levels (although natural gas is harder to transport).
U.S. Dollar Index Futures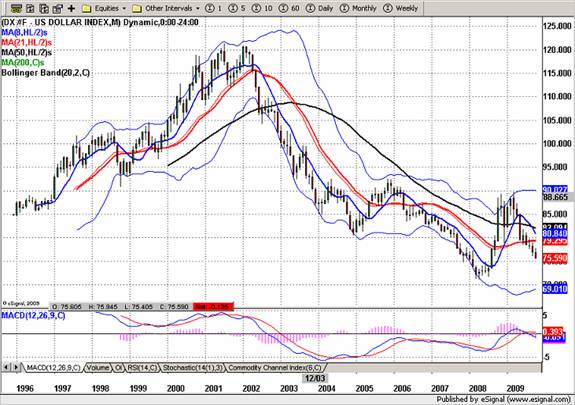 Feel free to contact me with any questions you might have about options or futures trading, and how to incorporate some of these concepts into specific trading strategies in the markets today.
Matt Krupski is a Senior Market Strategist with Lind Plus. He can be reached at 877-847-3034 or via email at mkrupski@lind-waldock.com. Follow Matt on Twitter at www.twitter.com/LWMKrupski.
You can hear market commentary from Lind-Waldock market strategists through our weekly Lind Plus Markets on the Move webinars . These interactive, live webinars are free to attend. To sign up, visit https://www.lind-waldock.com/events/calendar.shtml . Lind-Waldock also offers other educational resources to help your learn more about futures trading, including free simulated trading. Visit www.lind-waldock.com.
Past performance is not necessarily indicative of future trading results. Trading advice is based on information taken from trade and statistical services and other sources which Lind-Waldock believes are reliable. We do not guarantee that such information is accurate or complete and it should not be relied upon as such. Trading advice reflects our good faith judgment at a specific time and is subject to change without notice. There is no guarantee that the advice we give will result in profitable trades. All trading decisions will be made by the account holder.
Futures trading involves substantial risk of loss and is not suitable for all investors. © 2009 MF Global Ltd. All Rights Reserved. Futures Brokers, Commodity Brokers and Online Futures Trading . 141 West Jackson Boulevard, Suite 1400-A, Chicago, IL 60604.