By FX Empire.com
The natural gas markets fell again on Tuesday as the triangle that broke signals another run to the downside going forward. There are many reasons for the market to fall, not the least of which includes a simply glut of supply. The United States is sitting on roughly 14 trillion cubic feet of natural gas, and that doesn't even include the massive amount in Canada as well. The oil drillers in the Gulf of Mexico will often burn off the natural gas byproduct that appears when they drill as it simply isn't worth bothering with. In other words, natural gas isn't exactly in demand, and demand rules everything in the end.
The new technologies that have come about in the last few years have simply flooded the market with cheap gas, and this should continue to be the case as technology will only increase the amount of gas that is recoverable over time. With this in mind, it could be a long time before the natural gas markets pick up.
The triangle that broke down on Monday was further confirmed on Tuesday as the price continued to fall, and now threatens the $2.50 level. The market is obviously one that you cannot buy at this point, and in fact is one you should always be asking "When can I sell it again?" The triangle that gave way measured a move down to the $2 level, and this is natural as the market likes to move from one big figure to another. The downward momentum should continue into the future and a move down to the level wouldn't exactly be a surprise.
The market can be sold here quite frankly, as long as you are willing to set stop losses above the $2.80 level. The contract is one that has been very good to us, as we have sold rally after rally. While there is only one way to trade, there is always someone willing to buy. This should ensure sellable rallies in the future as well. Sell, sell, and sell some more.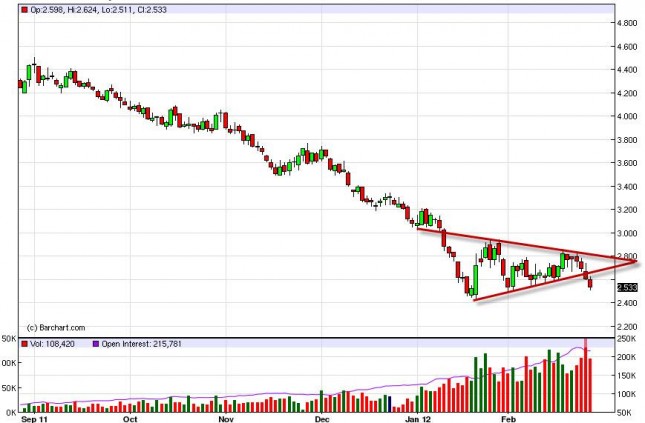 Natural Gas Forecast February 29, 2012, Technical Analysis
Originally posted here