Last week, GLD (GOLD ETF) broke down its ascending triangle uptrend line and made a decisive run down.
This week gold might bounce up to attempt to fill the gap, but last Thursday's gap remains very important for shorts. As long as this gap is unfilled, the bearish tone continues in this market. Our next target remains 130-129.50.
Around 130-129.50 range, we may see a bounce, but the bounce shouldn't exceed 135.68. That line will become GLD second high level area for a next major leg down move.
Therefore we need to pay attention to the bounce, and re-enter a short under the 135 line for the next leg down move. A move under 129.50 could lead price a further down to 126-125 range.
You can take the Naturus chat room for a test rive for only 10 cents a day. Details here: http://naturus.com/dad.html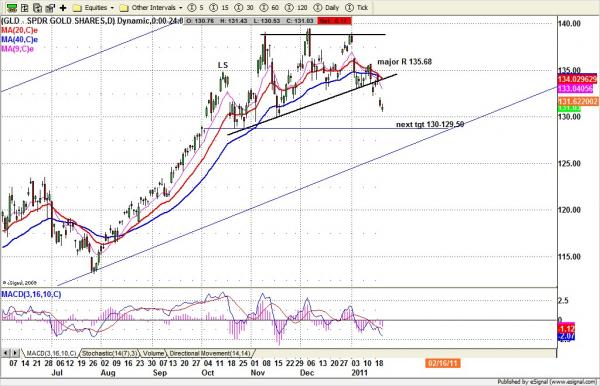 GLD Daily chart