OPTION TRADE OF THE DAY!
12-21
March Sugar ran to and through the top of the range only to fail the following day, we are buying the March 25/22 bear put spread and selling the 2850 call as a naked leg. The trade is currently being filled at a 5 tic credit which is about $55. The risk on the trade is if the market goes above 2850 where you are short the call with the same risk as being short a futures contract from that price. The profit potential on the trade is 3 cents or $3360 plus premium received minus commission (x3).
See chart below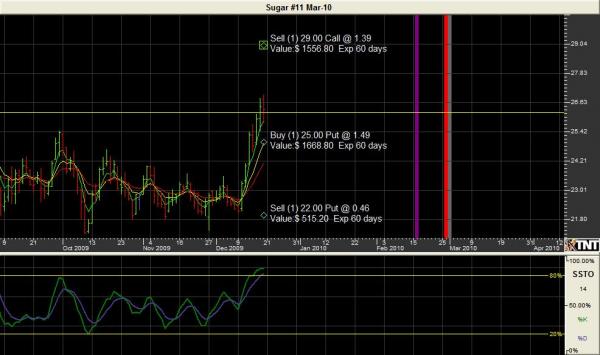 PAST PERFORMANCE IS NOT NECESSARILY INDICATIVE OF FUTURE RESULTS
There is a substantial risk of loss in trading futures and options.
PLACING CONTINGENT ORDERS SUCH AS "STOP LOSS" OR "STOP LIMIT" ORDERS WILL NOT NECESSARILY LIMIT YOUR LOSSES TO THE INTENDED AMOUNTS. SINCE MARKET CONDITIONS MAY MAKE IT IMPOSSIBLE TO EXECUTE SUCH ORDERS.
Past performance is not indicative of future results.
The information and data in this report were obtained from sources considered reliable. Their accuracy or completeness is not guaranteed and the giving of the same is not to be deemed as an offer or solicitation on our part with respect to the sale or purchase of any securities or commodities.. Any decision to purchase or sell as a result of the opinions expressed in this report will be the full responsibility of the person authorizing such transaction.
FOR CUSTOMERS TRADING OPTIONS, THESE FUTURES CHARTS ARE
PRESENTED FOR INFORMATIONAL PURPOSES ONLY. THEY ARE
INTENDED TO SHOW HOW INVESTING IN OPTIONS CAN DEPEND ON
THE UNDERLYING FUTURES PRICES; SPECIFICALLY, WHETHER OR NOT
AN OPTION PURCHASER IS BUYING AN IN-THE-MONEY, AT-THE-MONEY,
OR OUT-OF-THE-MONEY OPTION. FURTHERMORE, THE PURCHASER
WILL BE ABLE TO DETERMINE WHETHER OR NOT TO EXERCISE HIS
RIGHT ON AN OPTION DEPENDING ON HOW THE OPTION'S STRIKE
PRICE COMPARES TO THE UNDERLYING FUTURE'S PRICE. THE FUTURES CHARTS ARE NOT INTENDED TO IMPLY THAT OPTION PRICES
MOVE IN TANDEM WITH FUTURES PRICES. IN FACT, OPTION PRICES MAY ONLY MOVE A FRACTION OF THE PRICE MOVE IN THE UNDERLYING
FUTURES. IN SOME CASES, THE OPTION MAY NOT MOVE AT ALL OR
EVEN MOVE IN THE OPPOSITE DIRECTION OF THE UNDERLYING FUTURES CONTRACT.
Paul Brittain
Whitehall Investment Management
Commodity Trading School
877-270-8403
Paul Brittain
Commodity Trading School
877-270-8403
702-463-0718
info@commoditytradingschool.com
paul@binvstgrp.com