As we can see from the TrendMap below we have divergence between the trends on the Weekly and Daily charts on many of the currency pairs just ahead of today's FOMC meeting. Keep in mind we can see shifts on the Weekly trends during the course of the week, however they definitely hold more weight at week's end with the shift still in place.
Interestingly the S&P's and Yen, markets many of us see as leading indicator markets, are still showing coordination between these two influential time frames.
We saw some nice rallies off weekly support in EURJPY & GBPJPY this AM — see second chart below — as professional traders deemed further sell-offs ahead of today's Fed announcment unlikely, and took the opportunity to play the short-covering bounce during the U.S. morning session.
One advantage the TrendMap lends us is it takes the subjectivity out of our decision making. The trend is either up or down.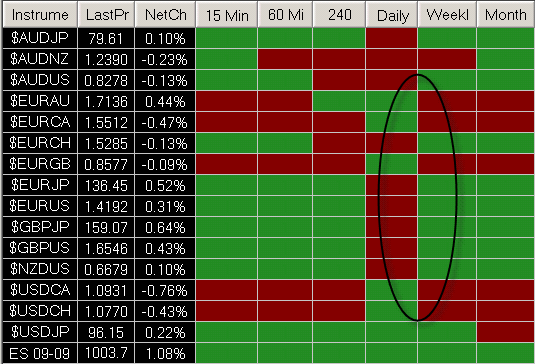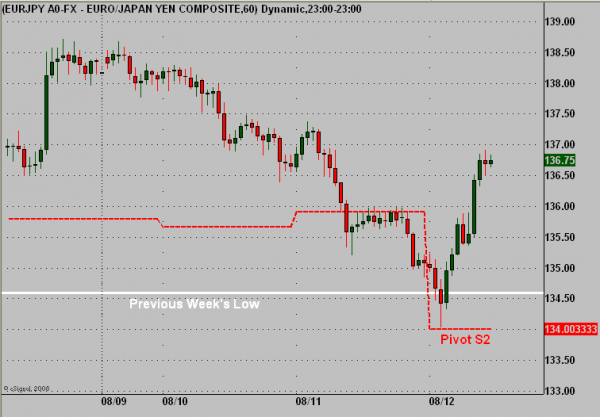 Contact us at:
Local: 312-896-3930
Toll Free: 1-800-971-2440
DISCLAIMER: Forex (off-exchange foreign currency futures and options or FX) trading involves substantial risk of loss and is not suitable for every investor. The value of currencies may fluctuate and investors may lose all or more than their original investments. Risks also include, but are not limited to, the potential for changing political and/or economic conditions that may substantially affect the price and/or liquidity of a currency. The impact of seasonal and geopolitical events is already factored into market prices. Prices in the underlying cash or physical markets do not necessarily move in tandem with futures and options prices. The leveraged nature of FX trading means that any market movement will have an equally proportional effect on your deposited funds and such may work against you as well as for you. In no event should the content of this correspondence be construed as an express or implied promise or guarantee from B.I.G. Forex, LLC and Brewer Investment Group, LLC or its subsidiaries and/or affiliates that you will profit or that losses can or will be limited in any manner whatsoever. Loss-limiting strategies such as stop loss orders may not be effective because market conditions may make it impossible to execute such orders. Likewise, strategies using combinations of positions such as "spread" or "straddle" trades may be just as risky as simple long and short positions. Past results are no indication of future performance. Information contained in this correspondence is intended for informational purposes only and was obtained from sources believed to be reliable. Information is in no way guaranteed. No guarantee of any kind is implied or possible where projections of future conditions are attempted.