Last week many of the standard inter-market relationships appear to have broken down. Equities declined but so did the U.S. dollar. The euro advanced, which is the opposite of what we would have expected given a decline in U.S. equity markets.
Is this just a temporary dislocation? Or is it the beginning of something bigger?
BIG PICTURE CLUES
When things no longer make sense, stepping back and taking a look at the "big picture" can be helpful. What drives the hunger for risk in markets?
CHINA, OF COURSE
The big driver for economic growth the last several years has been China and its insatiable hunger for commodities. Taking a look at how traders feel about Chinese equity markets can provide a clue about their view of future growth there. The China Shanghai Composite (SSEC) got off to a good start in 2012 but made a double top early in the year and has been in a solid downtrend since May. However, in early August it appeared to break its downtrend. Unfortunately, on Friday the index printed a new closing low for 2012. Not a good sign.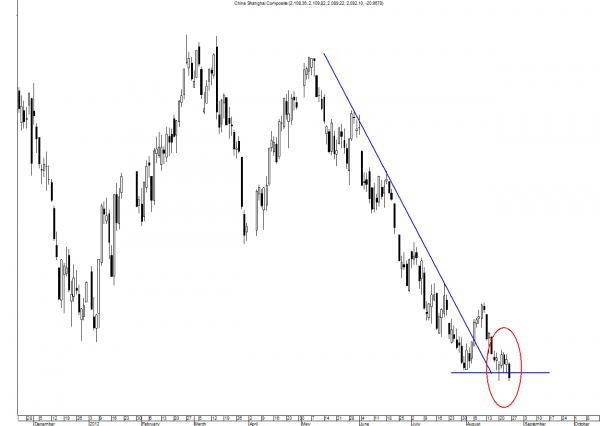 AUSSIE DOLLAR
Another clue to whether markets are signaling "risk-on" or "risk-off" lies in the Australian dollar. Chinese demand for raw materials is, to a large part, satisfied by Australia and its natural resources. To buy those natural resources, China needs Australian dollars.
The Aussie dollar (AUD) declined from March through May of this year but then things seemed to pick up and it has been rising since then. But on Friday it broke its advancing trendline.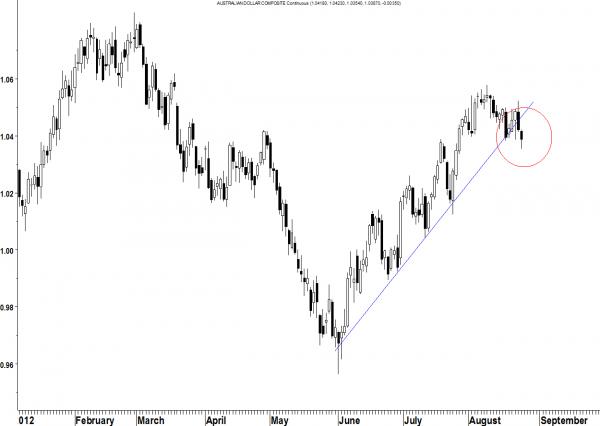 INVESTORS PULLING BACK?
The message from these two assets is that investors seem to be pulling in their horns. This should be a very "interesting" week for all asset classes.