Greetings, Everyone and welcome to a new week!
We arrive at the Sydney Open with continuation of Friday's Price Action in most Currency Units, as the Dollar and the yen continue with their directional momentum-based strength.
With the "heavy weight" and insecurity of recently positive German and French GDP, the Euro still needs some time on the "Proving Ground" to see if these top economies can sustain their recent growth.
In a similar fashion to the Equity rallies and Data Point stabilizations in the U.S., the EuroZone also has a "Disconnect" between positive Numbers and the "true" overall health of their interests.
Due to this, we are seeing "Bleedout" into the Euro Crosses, of which the EUR/JPY Unit is finding Key Levels concerning Price.
On the Daily View, we see Fib Variant Confluence with the 38.2% of the August 2008 Weekly Downleg, and the Daily July 2009 Upleg at the 134.32/133.92 Area.
Price remains "anchored" in the area and Bearish Views are in immediate-term favor for a look towards the 133.00 Handle of Static Support.
Bullish Views will look for a clip of the 135.50's Area for any significant confidence that Risk Appetite may be coming back into favor… at least in the immediate to near-term.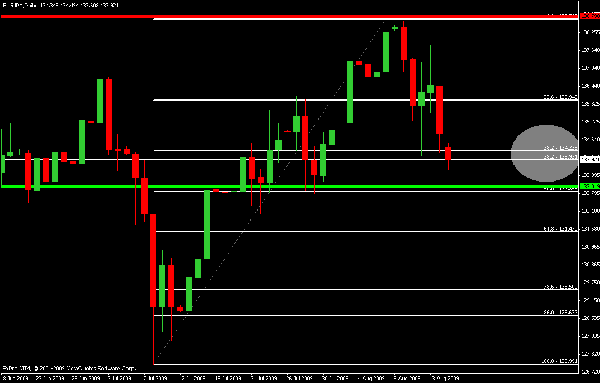 When we see Price "hovering" around such Key Levels, it is always advisable to control Risk Exposure by waiting for a Breach or a Clip of Price in either direction.
This simply gives us more information to work with, which brings more clarity to our trading decisions moving forward!