ROEMER——–SUGAR SOARS…..SOME RAINS COMING TO INDIA—-A LOOK AT CHINA AND INDIA WEATHER SITUATION FOR CROPS
U.S. weather will remain ideal for corn and soybean crops and this will be one factor in the markets. We will worry about any cool weather or frost threats later, but it is not important for now.
Sugar has soared mostly on one of the worst droughts in India in recent memory, which we have been right on top of. How much higher sugar goes will depend on the monsoon over the next few months, and Brazil crop conditions.
The wildcard in some of the grain markets, particularly soybeans of course, is the Indian Monsoon and also crop yields in China. With China stepping up bean purchases lately, I wanted to take a quick look at the crop situation over there, to see if down the road, perhaps they will have to import even more, if there are any important crop problems.
Current conditions have been dry in a few areas (see maps and charts below). Not a disaster but dry conditions are probably resulting in yields 2-4% below trend line. Last year, I believe China soybean production was at about 1600 TMT and yields were 1.68 MT/HA. This year, the USDA earlier projected yields of 1.71 MT/HA (at the 5 year average), but dry conditions may lower this some, although some improvement in the dry situation is likely during the 11-15 day period.
The weather forecast is for warm-dry weather and some crop stress over the next week or so, but some improvement with more normal rainfall and normal to below normal temps during the 11-15 days may stabilize things. Bottom line–Do not look for a record crop by any means in China, like the U.S., and if for some reason China misses the rains in about 6-10 days and remains hot, this could cause more concern. Right now we look for slightly below normal trend line yields for corn and soybeans.
INDIA
Right now, the bigger concern that MUST BE ADDRESSED is the groundnut/oilseed situation in India, where stress has been lowering yields for various oilseed and soybean regions in India over the next few weeks. It is not enough to say rains in one area and not in other, but a more medium term approach and looking at yield potential in all crop growing regions are key. It is possible, for example, that groundnuts in southern India, where it will remain mostly dry, could see yields and production fall 15-25% below trend line. Please see the very detailed report(s) I have written over the last few weeks with regards to India. Some rains are coming to key areas, but still, on average the monsoon will stay erratic, especially in central and southern regions with yields slightly below trend for cotton, severely below for sugar, and modestly below for oilseeds. Sugar production could be at least 15-20% below trend. However, key rains in the north are coming over the next week with the lower 40-50% of the region still seeing slightly below normal rainfall over the next 2 weeks.
Dry conditions in Rajasthan, a key rapeseed region in India will likely result in slightly to modestly lower acreage. So the key now is how the forecast will fare for the next month or so in these regions. It is extremely difficult to pinpoint day to day exactly how much rain in all of India's crop regions will fall. The bottom line and point I have made for weeks is that the monsoon will be erratic with several crops being at least slightly below trend line.
RAINFALL (RED LINE IS 2009) VERSUS 2009 (YELLOW) AND 5 YEAR NORMAL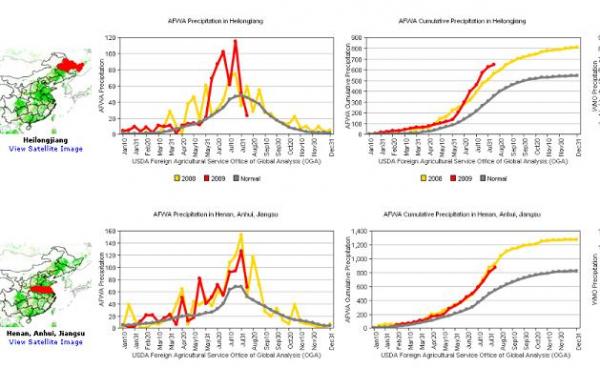 TEMPERATURES FOR KEY CHINA CORN AND SOYBEAN AREAS
Warmer than normal weather has depleted moisture slightly, versus the year average. The warm weather will continue to cause some minor-moderate crop stress with a possible return to normal,then to cool conditions and increased rains in the next 11-15 days. A dry, warm 11-15 days would have really taken its toll on yields.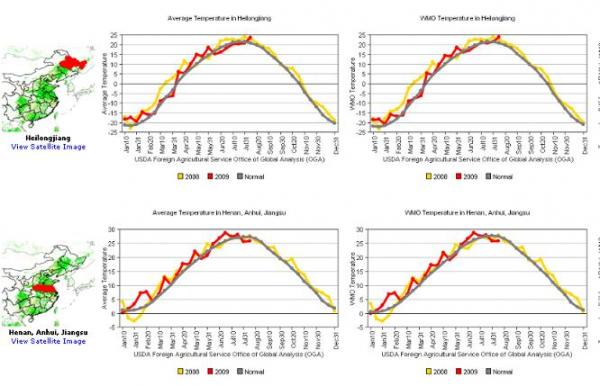 MOST OF THE SEVERE DROUGHT CONDITIONS ARE WEST OF KEY REGIONS.
A FEW CONCERNS EXIST WITH NO BETTER THAN NORMAL TO SLIGHTLY BELOW
TREND LINE YIELDS.