Gold has been in the spotlight, but silver has been a hidden bull, and I expect it to rally for several reasons. Traders who are leery of buying gold at record-high prices might consider a silver play.
Dollar Weakness
Silver should find strength from expected continued weakness in the U.S. dollar. Commodities saw a broad-based rally on Monday, November 9, after the weekend G-20 meeting, where finance ministers agreed to continue global economic stimulus measures. The dollar weakened after the meeting and many commodities surged, including grains, energies and metals, as well as the stock market. The U.S. Federal Reserve left monetary policy unchanged at last week's policy meeting, and rates look to remain near zero for some time. Therefore, I don't see the dollar's trend changing much anytime soon either.
There has been a fairly strong inverse relationship between the U.S. dollar and commodities. U.S. dollar-denominated commodities have been strengthening, as a cheaper U.S. dollar means cheaper prices for countries looking to import goods.
We have also been hearing rumblings of central banks trying to diversify away from the U.S. dollar and buying gold, and also perhaps a currency basket. While that trend could take some time on a large scale to occur, it would likely exacerbate dollar weakness, and silver and gold should both benefit.
Silver should follow rallies in other precious metals, including platinum and palladium, as these metals also benefit from increased industrial demand, both real and anticipated, as we exit of the recession.
Funds Net Long

Looking at the latest weekly data in the Commodity Futures Trading Commission's Commitments of Traders report, fund buying and non-reportable (small speculators) were net long about a combined 64,800 silver contracts. Even though there is weakness in the economy (notably the employment situation) there is fund interest in commodities. Investors are interested in hard assets. Several funds have also been looking to rebalance some of their portfolios in compliance with CFTC regulationsI expect to see broader and deeper positions, perhaps moving out of gold and into other metals such as silver, which should benefit from this process.
Gold has hit a new record-high above $1,100 an ounce, but silver has been lagging. I expect silver may play some catch-up over the next few weeks or months, and should post even greater gains on a percentage basis than gold. Silver has not able to break through last month's high, but I believe that should happen fairly soon.
Metal Ratios
Anticipated inflation should also prove a driver for metals prices in general, as a hedge. The monetary and non-monetary metal ratios (between silver and gold) are important to note. The historical peg for the monetary ratio of these metals is about 15-to-1. That means about 15 ½ ounces in silver is typically required to buy an ounce of gold. Currently, this ratio is at 63-to-1, or 63 ounces of silver are required to buy an ounce of gold. If this relationship reverts to historical norms, silver should rally significantly higher to catch up.
The non-monetary metal ratio on COMEX silver to gold contracts is 7-to-1. That means 7 contracts in silver are required to equal one gold contract. That effectively means that if gold moves to $1,200 (a move of $100), we should see silver at least $2 an ounce higher, with an objective of $19 in the medium-term.
Trading Silver with Moving Averages
The daily chart of the March COMEX silver contract shows the 50-day moving average in blue. We can see how the market has bounced off these supports. The 200-day moving average is in green. This chart shows an increase between the 50- and 200-day moving averages. There is an increase in the distance between these moving averages, indicating an increase in momentum, and in new buying coming in. The 50-day moving average is reacting and increasing its slope more so than the 200-day moving average. The differential suggests increasing strength and increasing buying. We haven't broken resistance at $18, but if this trend continues, I expect a breakout in the next few days. The 50-day moving average, near $16.92, is holding as support and looks like a great place to establish a long position.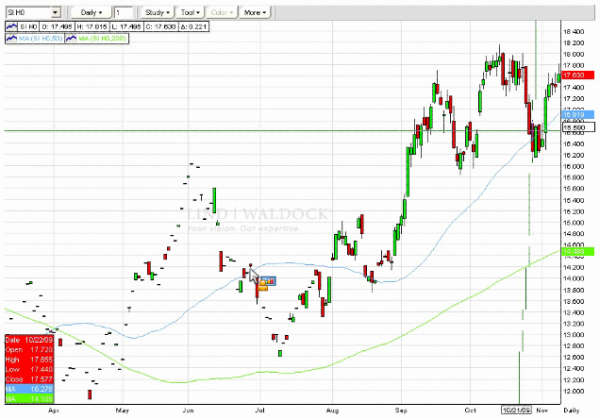 Looking at a weekly chart, we can see the uptrend extending from 2008. The 50-day moving average is showing strong buying coming in, and the 200-week average shows a smoother line. Similar strong support is seen near $17 on the weekly chart also. A $2 move in silver would give a target of $19.50, also a strong resistance level. If gold really does take off, I would expect even higher prices ahead for silver.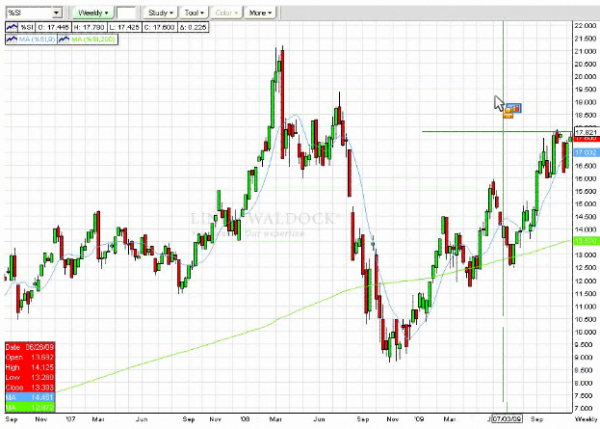 Please contact me to develop a customized strategy to fit your unique situation. I'd be happy to take your questions about this or other markets.
Dennis Cajigas is a Senior Market Strategist with Lind Plus, Lind-Waldock's broker-assisted division. He can be reached at 866-631-6216 or via email at dcajigas@lind-waldock.com.
Futures trading involves substantial risk of loss and is not suitable for all investors.
Past performance is not necessarily indicative of future trading results. Trading advice is based on information taken from trade and statistical services and other sources which Lind-Waldock believes are reliable. We do not guarantee that such information is accurate or complete and it should not be relied upon as such. Trading advice reflects our good faith judgment at a specific time and is subject to change without notice. There is no guarantee that the advice we give will result in profitable trades. All trading decisions will be made by the account holder.
© 2009 MF Global Ltd. All Rights Reserved. © 2009 MF Global Ltd. All Rights Reserved. Futures Brokers, Commodity Brokers and Online Futures Trading. 141 West Jackson Boulevard, Suite 1400-A, Chicago, IL 60604