Facebook (FB) has been on the mind of investors since its initial public offering (IPO) May 18. A lot of negative press has been heaped on the stock in the wake of its lackluster performance.
SHE'S A GAPPER
As an active day trader, focusing on stocks that gap, FB has made my morning list a few times and I have gotten to know her well.
PRICE HISTORY
Facebook saw its initial public offering between $45.00 to $38.00. That price was completely rejected by the Street and it took fourteen trading days for FB to find some support at $25.50 when it formed a nice daily pivot on the chart. After that, FB rallied up to find some price rejection into $33.50 and then made a lower high and tested the pivot of support at $25.50 (Supply Level 2), completely gapping through it smashing any support it had previously built.
THE SEARCH FOR BUYERS
FB's short life span has just entered into a new price discovery and has proceeded to press lower each day searching for buyers. The low of $22.28 has already been tested and rejected twice on August 7 and August 13 and has provided us with a marker of supply (Supply Level 1).
KEY BEARISH GAP
On August 16, gap down day, FB made another marker of supply on the high at $20.48. If FB can push through again to 20.48 and build some price support it will try and test the $22.28 supply area. If it is unable to build any price support down here in the $18.00 – $19.00 area it will likely drift lower until price support is built. FB has a lot of back filling to do to build any long term support.
THE TRADE
Be short into "Level 1 Supply" at $22.40 or sell into any break of 18.00 area. Trail until the trend changes. If FB gaps up to "Level 2 Supply" $25.50, sell into that gap up, with a target at $22.40.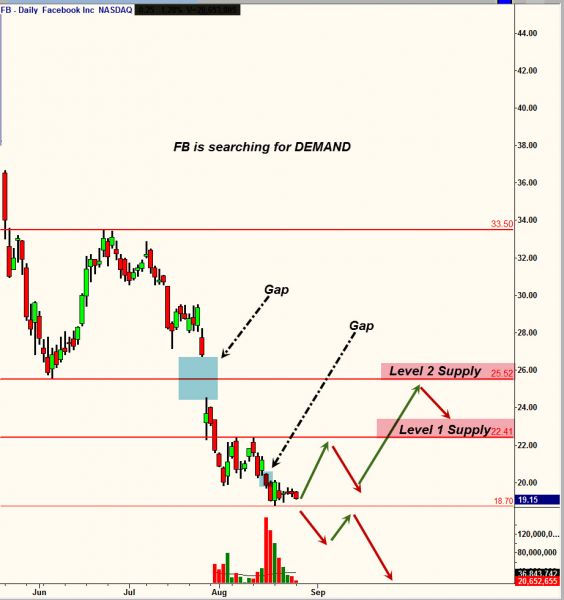 [Editor's note: What stocks are on your watch list today? Are you ready to short Facebook? Let us know. ]