We are likely due for an oversold bounce from the close on Friday (10/12) after the market attempted a double top in the S&P 500 with its test of 1470. Last week's weakness brought us to the 50-day Moving Average on the S&P as well as the lower trend line. But it's important to remember that just because a market is oversold, doesn't require it to rise in order for it to work off its oversold condition.
MARKET INTERNALS
So while we may see some appreciation in equities from here, it likely won't be much of a rally as the market internals still appear to be shifting into lower beta sectors. Going from here if we do in fact re-test 1470, it'll be important to see if the 'risk on' sectors and markets are also testing previous highs, or if they continue to diverge. For bulls to continue holding the reigns they will need to convince traders to shift IWM and commodities into gear and start participating in any form of a rally.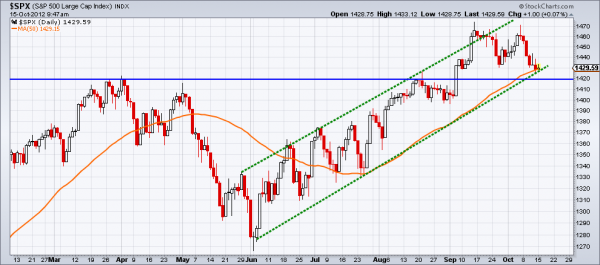 KEY MOVING AVERAGE
Bears seem to be licking their chops at the idea of the S&P 500 breaking its 50-MA and breaking the current support of a rising trend line in half while calling for a stampede lower.
BEARS HAVE MORE DRY POWDER
As I mentioned in a recent column here, there is evidence on both sides of the spread for where the market is headed, but it seems the risk is on the upside as the bears have more dry powder to use against any potential pop we experience in the next few days or weeks.
Disclaimer: The information contained in this article should not be construed as investment advice, research, or an offer to buy or sell securities. Everything written here is meant for educational and entertainment purposes only. I or my affiliates may hold positions in securities mentioned.