A few days ago I wrote an article predicting a rally in the S&P futures up to 2082. This is a magic number of sorts.
2082 is the Volume Profile Point of Control for a look-back of one year in the S&P futures. That is the price zone where the highest volume over the last year occurred. At the moment it is acting as a magnet for price and that's the good news.
Unfortunately, this could also be the last rally of the 6-year bull because this volume ledge will act like a physical ledge for a rock climber. It will be very difficult to surpass.
The reason is that institutional traders need volume in order to transact business efficiently; otherwise they create turbulence that reveals their intentions. This hurts their ability to get the best prices for the shares they want to unload.
Additionally, those Mom and Pop investors who drank the Kool Aid over the last year are already underwater, which will incentivize retail selling in that zone, as well.
If things play out according to this scenario, the Nasdaq, and particularly biotech, will lead the way higher and the S&P will follow. Not surprisingly, on Thursday, the Biotech ETF (IBB) shot up 4.6% and no one cared about Netflix (NFLX).
I'm not a skeptic by nature and I do like a happy endings, but I don't think this story has one. Instead, I'm looking for a long kiss goodbye at 2082.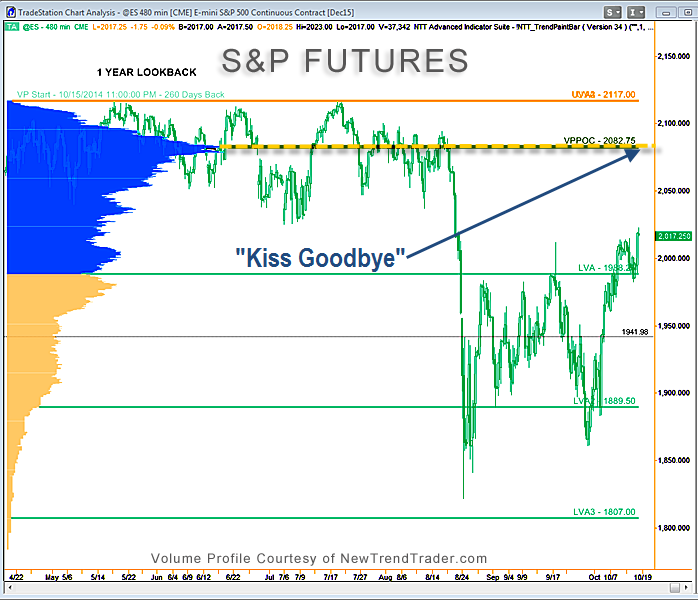 Dr. Reid runs daytradingpsychology.com and trader-analytics.com, a service for banks and hedge funds.