ALARON LAS VEGAS US EQUITY FUTURES REPORT 05/21/2009
US STOCKS FALL. VOLATILITY INCREASES ON FOMC MEETING, UK CREDIT RATING CONCERNS.
US EQUITIES fell on Thursday, continuing to feel the pressure from growing concerns regarding US budget deficits and credit worthiness and stability of government securities. These concerns fueled a dramatic sell off in dollar denominated assets and prompted investors to hedge portfolios with alternate asset classes such as gold and silver. Pre summer holiday volatility was high as equities as well as debt markets came under sever selling pressure due to the loss of the United Kingdom's AAA credit rating by S&P. Fears grew that the United States, currently traveling the same path of a near 100% ratio of debt to GDP (Gross National Product) could be next in line for a similar downgrade.
Manufacturing and technology stocks were among the worst performers today, as positive sentiment in these sectors collapsed due to perceptions that economic recovery will likely take longer than expected and contributions to the delay are being fostered by the actions being taken to try and repair the credit damage (double edged sword). In addition ongoing unemployment claims continue at a record pace and a reading on manufacturing from the Philadelphia Fed Survey came in worse than expected. Trading volume was light, with the negative sentiment failing to support a clear trend. Equity markets recovered from their lows toward the end of the session, closing slightly off of the opening range.
Technically, June Dow Futures are testing the downside of the recent channel, with a break of 8215 signifying increased building of strength in downward momentum. Market will have to challenge key levels of support at 8169 and 8077. Resistance has set up at 8454.
.
| | | | | | |
| --- | --- | --- | --- | --- | --- |
| EQUITY RANGES | OPEN | HIGH | LOW | | CHANGE |
| DJM9 (JUNE DOW) | 8305 | 8310 | 8209 | 8295 | -100 |
| SPM9 (JUNE S&P) | 889.80 | 893.10 | 878.00 | 888.70 | -11.20 |
| NDM9 (JUNE NASDAQ) | 1381.50 | 1390.00 | 1352.00 | 1367.50 | -25.00 |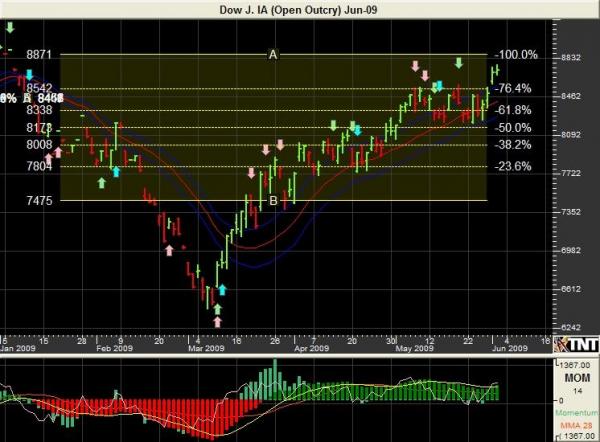 Prepared by Rich Roscelli & Paul Brittain.
Past performance is not indicative of future results. The information and data in this report were obtained from sources considered reliable. Their accuracy or completeness is not guaranteed and the giving of the same is not to be deemed as an offer or solicitation on our part with respect to the sale or purchase of any securities or commodities. Alaron Trading Corp. its officers and directors may in the normal course of business have positions, which may or may not agree with the opinions expressed in this report. Any decision to purchase or sell as a result of the opinions expressed in this report will be the full responsibility of the person authorizing such transaction.