Vantagepoint Forex Weekly Outlook for the Week of June 3rd, 2019
The Vantagepoint Forex Weekly Outlook is designed to help traders. It's important to remain aware of correlations in the global markets. Traders can become more profitable if they know how to get ahead of the trends. Utilizing the predictive indicators in VantagePoint Software can help traders find the right trades and the right times. Above all, traders know when to enter and exit those trades for maximum profit. Let's look at the charts for the U.S. Dollar, Gold, Crude Oil The Stock Market and the Major Pairs.Hello everyone, and welcome back. My name is Greg Firman and this is the Forex Weekly Outlook for the week of June the 3rd, 2019. The US Dollar IndexNow to get started this week, we're going to begin where we always do, with that all important US dollar index. We're going to try and determine which direction the dollar is going to take next. Now this Friday was very similar to last Friday where basically we saw the dollar moving lower on profit-taking, but we want to assess here too, that we've formed a verified support zone down here on the dollar index at this 97.42. But my concern is we've had another significant failure above the 98 level, a classic false break, only to turn lower. We're coming up higher, and you can see here on Thursday, we've come close to that level. We've hit 98.19, and the dollar, basically we've seen sellers just camped out in this particular area.Now with the falling RSI, we're losing that upward momentum, but we're relatively heavy data week coming up. We've got the non-farm payroll, I believe it was some ISM numbers, so there's a lot of stuff there going on which is going to set the tone for the next move on the dollar. In my respectful opinion, after the non-farm payroll number on Friday, historically the dollar is sold off, so the dollar's made a very, very, very good run over the last several months, but all good things must come to an end here, guys.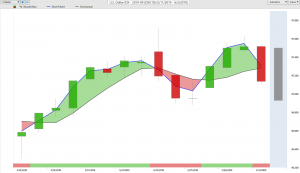 When we look at this, one of the two driving factors, the direct intermarket correlations that I'm noticing, the dollar is… usually when the dollar is weaker, or we're in a risk-off scenario, money is finally starting to work it's way into gold, but I will point out that a considerable amount of money has gone into Bitcoin during this period, during the trade war and everything else. So that's something we want to take into consideration going forward, not just in our Forex trading, but also looking at potentially Bitcoin as another investment vehicle.
The Gold Market
Now with gold making a very substantial push, this again comes down to a lot of rhetoric around the trade deal between China and the US, but also there's some noise, rumblings between the US, Canada, and Mexico on that NAFTA deal, that Trump's not happy with that either, so gold, we're definitely in a risk-off environment here. Now with gold, we're up against formable resistance here that has held throughout the calendar year, 2019, up to the 1346 area, so we're going to continue to watch this, but if the dollar… this big break up in gold off this triple bottom down here. And the triple bottom I'm referencing to is basically three levels in which the market has come to and failed that's formed verified support down here, and now we're moving higher, but I will also let everybody know, we're still very clearly range trading, also.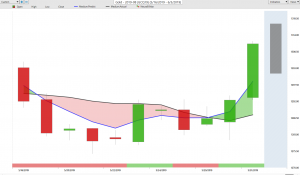 S&P 500
Now with the S&P 500 definitely entering into a bear market and excellent call here on Vantage Point. We've worked on this in the Vantage Point Live training room, that basically this big top up here around 2960, we're 8, 9 years into this, or 7 or 8 years into an equity based rally. Economically speaking, these cycles, usually the US goes into a recession every 8 years or so, so again, the Vantage Point indicators picking up on this, of course this is being caused partially by the trade war, but again, these stocks are so overpriced to begin with. Whether this is a corrective move or a new trend, in my respectful opinion, in order to start a brand new, longer term trend, we need to get below this area down around 2728 and break free and clear of it.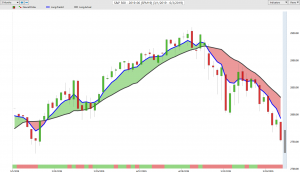 Now if we back our charts out here and we look at over the year, you can see there's a number of different levels here, but it wasn't that long ago on this same risk-off scenario that the S&P 500 was down at 2340, but when we look at this chart on a broader basis, we can see that this is a longer term, double top, triple top up here, whatever you want to call up it up towards this 2960 area. But either way, that is a significant potential failure that is now in place.
Crude Oil
This is also affecting light sweet crude oil. We can see that oil is coming down also into a very strong support area. When we back our charts out, we can see here. Now that low point is down at about the 52 area. I anticipate that the market in oil will reverse between 52 and this additional low here. I don't think we're going to be going down to 43 here, guys. I think we're going to hold firm, likely above this area here at 52. We're going to see some buyers coming in.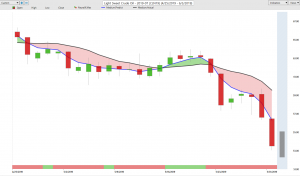 This is a commonality here, or seasonality, guys. What happens is they give us a little break at the pumps in June or May and the first part of June, and then in July, they hit us at the gas pumps and Summer driving season. Always remember that, that the likelihood is, this is just a little bit of a reprieve, and then again, towards the end of June, when everybody starts going on vacation, whether you're in Canada, the US, or Europe, we all go on vacation around the same time and that's when they like to hit us at the pump. So be a little bit cautious of that, but right now, I will point out too, if there's any kind of recovery in the S&P 500, that oil is likely to follow.
Forex Weekly Outlook for Major Pairs
Euro/U.S. Dollar (EUR/USD)
As we move into our main Forex pairs, the Euro US, we continue to hold yet again, two weeks in a row guys, we're coming down. The Euro has been absolutely structurally weak during the course of the trading week, but then on Friday it always rallies back up on profit-taking. What I will point out, it rallies back up to a known area of resistance, 1.1175, the TCrossLong, and it's very important to know these levels because this is an outlook. I'm not going back and looking at something that's already happened. We're trying to put an outlook here to say what's going to happen next week. The normal cycle of the US dollar is that it weakens in the end of the first week of the new month. After the non-farm payroll, predominantly the dollar… whether that number is good or bad, the dollar is weakened, so it could very well be that these Vantage Point indicators are picking up on this, but to be clear, right now the top of our current range, our immediate range is 1.1216. Then we have this very significant level at 1.1264. It's entirely possible that we will test that before the non-farm payroll.To bring this down and use our long predicted, we can assess here that key pivot areas to start the week will be 1.1158. We've managed to close the week above it, but I'll point out again that this is largely based on profit-taking. It's not necessarily a new move higher, however the indicators are starting to warm up that the Euro could be recovering. Now remember too, we've got the ECB on interest rates and talking about the Euro's own economy, so we want to watch that carefully because I believe between the ECB on Thursday and the non-farm payroll number on Friday, that this range that we're currently in on the Euro and the dollar index is about to break.
U.S. Dollar/Swiss Franc (USD/CHF)
When we look at the US / Japan again… Or excuse me, the US / Swiss Franc… I slipped there and said US/ Japan because guys, it's the exact same trade. Both the US/ Swiss Franc chart, if we look at this, this mirrors the S&P 500 chart. When we're trading this pair, we are basically trading a risk-on or risk-off scenario. If we're in a risk-off scenario, like we are right now and equities are falling, money is going into the Swiss Franc more than the US dollar. Same with the dollar / yen pair, so we want to monitor it very closely, but we're in a pretty much a very pivotal point here. This low area coming in at 1.0… basically just the parity level here. We've closed slightly below this. My concern here guys, what I've talked about with my own direct clients, and the people in the live training room is that whenever I see a very long borrow like that, it's more often than not, comes at a time when the market is about to turn the other way.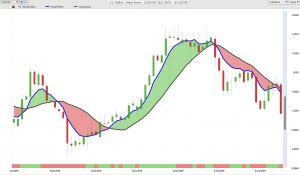 If the S&P 500 can recover, along with oil, then US / Swiss Franc will actually move higher, so will dollar / yen, so let's keep that in the back of our minds here as we're trading. We've got good support there, but if we lose this, then we're likely going to come down into this lower .9933 area, which at that time, we'll reassess, but right now, it does look structurally bear-ish. Now to get a better feel for this even, we bring in our predicted, our Vantage Point predicted moving average by itself and you can see here that key pivot area is 1.0057. We want to watch that area very closely to start the week. If we can stay below that area, shorts are viable. That means shorts are viable on the S&P 500 and oil also. But if we get back up above that area, chances are the S&P is getting ready to correct higher, as is this particular pair, so again, keep your eye on the prize here, guys.
British Pound/U.S. Dollar (GBP/USD)
With the pound / dollar, this is completely a politically motivated trade. Guys, we've got to very, very cautious with this one. I believe the Brexit issue will get resolved ultimately, and there is going to be one heck of a long trade here. I don't know if we're there yet or not. Right now you can see a number of the Vantage Point indicators are rising on Friday, but I believe that that's largely on profit-taking in the market. Our TCrossLong, our main pivot area here, 1.2748. We want to watch that area very, very closely to begin the week, and again, if we click on F8 on our Vantage Point software and look at our TCrossLong, just the blue line by itself, indisputable fantastic short in multiple, but there were a couple of long trades in here too, just to point out, particularly on this bar right here. But then ultimately, the sellers took hold and took it even lower. Right now the market predominantly wants to sell this pair. I would be looking for this pair to recover more towards the end of the week after the non-farm payroll number.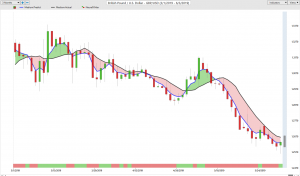 U.S. Dollar/Japanese Yen (USD/JPY)
Now as I said with US / Swiss Franc, if we look at US / Japan, you can see that this chart is identical to the S&P, so if you burn this image in your mind just for a quick second here, I'll go back and show you guys the S&P 500. You can see that basically these two charts are virtually identical, right? Once again, when we're looking at that, excuse me. There's the dollar yen, there's the dollar / yen chart there, and there's the S&P, again, they're almost identical, guys.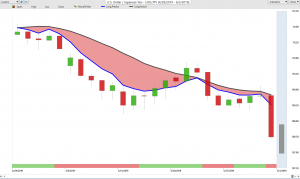 So when we're looking at this, any kind of recovery… And on the dollar / yen, you see this big, long down bar. The same bar I just showed you on the US / Swiss Franc so once again, whenever I see a very, very long bar, whether it be to the upside or the downside, more times than not, that's the end of it, the end of a particular rally, so we're going into non-farm payroll numbers on Friday. Let's watch this one very closely, but in my respectful opinion, if there's any chance that those stocks can recover, then this swing low down here, we've got a couple of them, but 107.77 and more importantly, right now, I believe we could have a buy signal forming between 107.77 and 108.50. We'll see how it plays out, but it will be 100% dependent on the global stocks turning back to the upside. The second they do, dollar / yen will follow, US / Swiss Franc will follow. Keep that in mind.
The Commodities Currencies
U.S. Dollar/Canadian Dollar (USD/CAD)
With our three main commodity currencies this week, we'll start where we always do with US / Canada. Bank of Canada, not overly dovish in my respectful opinion. They talked about the economic data being transitory. They've talked about the fact that they're not too worried about the current situation between the US and China. Once again, US / Canada was not able to hold these gains up towards this 1.3575 area.Now what we also want to make sure that I always say when we're using Vantage Point, we should be using price action, and when we're doing price action trading, we should be using Vantage Point. When I look at this, I can see that we have a major target price up here at 1.3663, but we must break free and clear of this congested area around this verified resistance zones. More specifically, 1.3520. If we can continue to hold above 1.3520, then maybe this pair has shot of getting towards 1.3660, but my optimism on that remains heavily guarded. Ultimately the Canadian dollar will succumb or move forward based around equity in oil prices. If they recover, US / Canada will actually be heading lower, not higher. Once again guys, as long as we know and understand our direct intermarket correlations, we can trade off them, right?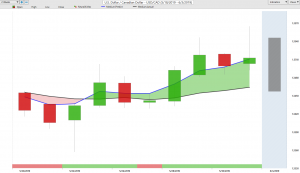 Then we just match them with key pivot areas. Right now our downside pivot area, 1.3473. Our Vantage Point indicators are slight overbought, so maybe another little bit of a run up to the upside on Monday. Watch out for a reversal here on Tuesday, okay guys? We're going to be watching the neural index very, very closely on this.
Australian Dollar/U.S. Dollar (AUD/USD)
Aussie / US is going to be a big week next for Aussie. We've got the RBA, I believe, correct me if I'm wrong, Tuesday night, Wednesday morning on the Aussie. Very strong resistance here in this verified zone. That's coming in at .6939. Believe it or not guys, this is the exact level that I discussed in last week's Forex weekly outlook and said basically, we can buy off the lower end of this range and we can sell off towards the top of this range. Now the Aussie had one good day here last week, guys. That was actually on Friday. That tells me it was likely profit-taking and there's not going to be… I don't think that there will be a lot of bets that we're going to get a hawkish RBA on Tuesday or Wednesday. I think it's very unlikely. I think the market is actually breaking for multiple rate cuts from the RBA, the Royal Bank of Australia, this coming year. But more specifically, they're anticipating a cut next week, so if that's the case, that will not benefit the Aussie currency. It's very, very unlikely so shorts, still carry a slight edge while below .6940 but even if we break higher, you can see that we've got this additional significant resistance at .7047.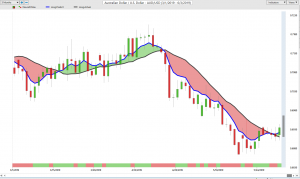 New Zealand Dollar/U.S. Dollar (NZD/USD)
I won't lie to you guys. I would much rather get that area for a short up there than here, but if this is all the market is giving us, you can see using the Vantage Point, again the Vantage Point TCrossLong, combining that with the verified resistance zone, that's a multi-day short here. Selling into this pivot area has been a fantastic trade. I won't lie. I was buying a little bit off the bottom down here too, but I like the longs more towards the .6860 area. I believe we're going to be .6860 prior to the RBA next week, maybe a long trade there, but I don't think so. I think for now, we should stay basically on the short side of this, but again, it's data dependent next week.Now if there's any positive news out of Australia from the RBA, that will indirectly benefit the New Zealand currency. Basically these two are joined at the hip. They're both banging up against this critical vantage point resistance area. That level now currently .6551. We must break and close above this level, at least two days in a row if we want to go long on this, guys. It's all about knowing and understanding the key levels in the Vantage Point software and absolutely combining them with the verified support and resistance zones because again, the Vantage Point indicators could very well say one thing and we could have price action traders that are hell bent on buying and selling around these verified zones. We don't want to fight them, we just want to make sure we identify these levels so we can trade or invest off them.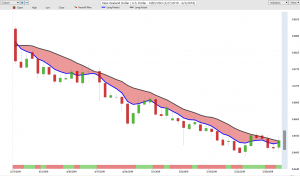 So with that said, this is the Forex Weekly Outlook for the week of June the 3rd, 2019.