Vantagepoint Forex Weekly Outlook for the Week of May 20th, 2019
The Vantagepoint Forex Weekly Outlook is designed to help traders. It's important to remain aware of correlations in the global markets. Traders can become more profitable if they know how to get ahead of the trends. Utilizing the predictive indicators in VantagePoint Software can help traders find the right trades and the right times. Above all, traders know when to enter and exit those trades for maximum profit. Let's look at the charts for the U.S. Dollar, Gold, Crude Oil The Stock Market and the Major Pairs.Hello everyone and welcome back. My name is Greg Firman and this is the Forex Weekly Outlook for the week of May the 20th, 2019. Now to get started this week, we're going to begin where we always do with that very, very important US Dollar Index.
The US Dollar Index
Now, the dollar has had quite a good week here over the last week or so, with a little bit of progress on the China/US trade, but not a lot in my respectful opinion. So, the dollar still has that safe haven status attached to it, but we're coming up to a major level of verified resistance. That area currently at 9808, the dollar has struggled at this area for some time. The indicators in VantagePoint right now are saying we're still going a little bit higher here, but we are moving towards an over-bought condition looking at the RSI. That doesn't mean it can't go higher, but when we look at things right now, once again, we've got out key support level at 9733, and we have verified resistance at the 9908 area. So, the probability of a failure in the dollar very soon is likely.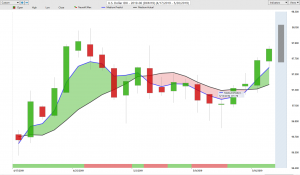 The Gold Market
Now, when we look at this and we apply that same methodology to gold, we can see here very clearly that gold is under a little bit of pressure. Not a lot of pressure here guys, but a little bit of pressure with that dollar strength. But, we've got a verified resistance zone and that's coming at about 1304. The lower end of the current range that we're dealing with is sitting at about the 1267 area. Now, most of the indicators in VantagePoint are pointing for a little bit more downside here, but a lot of this is based around that US dollar strength. Now, when the dollar starts to give back those gains, money should move back into gold. I suspect that will be probably in the mid part of the week here. But, again, we want to watch these signals from VantagePoint to see when the market is going to be turning. Right now, again, the medium term crossing the long to the downside suggesting there still, again, a little bit more downside.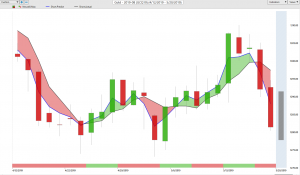 Crude Oil
Now, oil in most cases will follow the equities higher, and that's exactly what's happening. But, we can assess here also that we're getting tangled up around this verified resistance at 6348. So, we're looking for a clean break of that area if we have any chance of targeting 6672, the additional verified resistance. I believe we will get back up to that area the closer we move to summer driving season. Now, the indicators from VantagePoint are still rather positive on oil so we could see further upside. But we need the SM500 and the global indices moving higher, to be clear.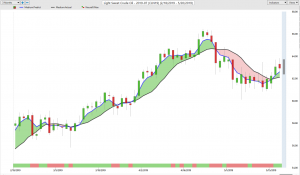 S&P 500
Now, with the SM500 we hear a lot of different rhetoric here from all the different analysis's, the different websites, but let's look closer at this guys. We've got our critical VantagePoint level right now. We've got a reversal signal here on our medium-term, causing our long-term predicted different, and we have verified support down at this level here. The market came down, kissed that verified support level, that level goes back to, again, if we look at this, that looks like our March 25th low, then we've come down, kissed that area, our VantagePoint medium-term crossing our long-term predicted difference warned us that this was probably getting ready to turn. But, again, when we look closer at this we also have this critical VantagePoint pivot area at 2882, we're failing two days in a row, and we're unable to close above that particular area.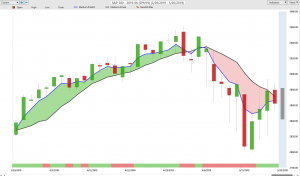 So, when we look at it going into next week, we need to make a clean break, in my respectful opinion, of the 2900 mark to take the pressure off the downside. Now, again, there's very little movement between the US and China. Trump has blinked a little bit saying that he may not put the additional tariffs on for six months, yadda yadda yadda, we've heard all this before. But, there is very little progress here. So, I don't see that anything has changed. Right now, our major swing top here is coming in at 2960. And our major low-point right now comes back into this, again, this March 25th low. We've come down and retested that area within a few points, only to have a drastic reversal. So, we watching this level very closely to begin the week.
Forex Weekly Outlook for Major Pairs
Euro/U.S. Dollar (EUR/USD)
Now, as we come into our major Forex pairs here this week, once again, a lot of range-bound trading. We'll start with our main pair, Euro/US. This is the most actively traded Forex pair. When we look at it right now, we've got strong verified support coming in. This level is absolutely huge at the 1100 mark, 1110-12. Once again, an excellent call from VantagePoint. When you're looking at the proper set up here, the medium term crossing the long term predicted difference to the downside, we're failing up against this major resistance line, this verified resistance zone as I identified in the software. We've got a falling RSI. All of that lead to the Euro moving lower. But, I will point out we are still very much in the same range. So, be careful. Anywhere near 1110, if the Euro is going to reverse and go higher, that is where the area is going to be. So, we're going to watch the Neural Index and the predicted difference cross. The same thing that put us short is the same thing that will have us go long here guys. Okay? So we just need to get this thing turning back up right now, the major resistance hurdle that we have to clear is the 11203 area, if we can get above that, then this pair will continue to move higher. But again, risk on/risk off scenario in the market will determine that.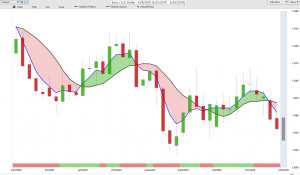 U.S. Dollar/Swiss Franc (USD/CHF)
Now, when we look at US/Swiss Franc, once again here guys, one of the best most effective ways to use your VantagePoint software, again, are medium-term crossing our long-term predicted difference to the upside, that's the pink line crossing the blue line, we want to use that in conjunction with the Neural Index in a rising RSI, and a rising MACD, for that matter too. I'm just simplifying the charts down here today. But, what we also have to do is identify major resistance using the VantagePoint pivot areas. Our T-cross long 10135, we must break above that guys. If we have any shot whatsoever of turning back to this critical verified resistance zone in that 10230 area. Right now, my optimize remains somewhat guarded here. We need stocks moving higher in order for US/Swiss Franc to move higher, to be very clear. If stocks crash, dollar, yen, and US/Swiss Franc are likely going to follow. So, watch your verified support level that we're going to hold, but we, again, we need to break through 10135 if we're going to continue to buy this pair.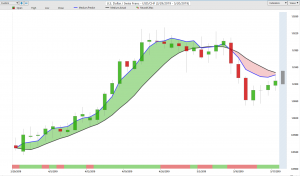 British Pound/U.S. Dollar (GBP/USD)
Now, when we look at the British pound/US dollar going into next week, obviously Brexit is another major factor. But again, looking at the predictive indicators in VantagePoint, we can see that the medium-term/long-term predicted difference cross is starting to narrow. The Neural Index is still read. We're looking for the N index to turn green, and our medium-term to cross our long-term predicted difference, back to the upside. I believe we're within a matter of days of that happening. So, when we back this out and we look at this over the six-month period, we can see major verified support at this low-point, going back to January 15th, that area, 12676, I believe that longs could very much work off this particular area. The further we move away from the critical VantagePoint T-cross long at 12946, the more likely it is we're going to retrace to it here guys. So, again, watch this 12964 and we're going to keep a very close eye on the medium-term crossing the long-term predicted difference when it is combined with the N-index. I think we will have a fantastic long trade here guys, again, in my respectful opinion only, we are very close to a turning point on this particular pair.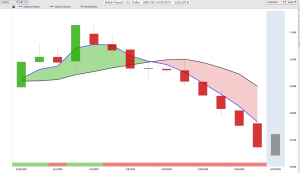 U.S. Dollar/Japanese Yen (USD/JPY)
Now, if the global stocks start to turn higher and they recover on some of the trade wars, then what we'll have here too, is right now we have a verified support coming in on the dollar/yen, global about the 109 area, 10902. Again, our medium-term crossing our long-term predicted difference, but, the market started to rise here guys when the Neural Index when from red to green. Very important that I stress this combination of these indicators. With a rising momentum indicator like the RSI, you can see then and only then did the dollar/yen rise. Now, run now I will have to also say that this is a corrective move higher. 11041 is the area we want to watch to start the week. If we can break above 11041, then chances are the global stock markets are going to reverse and go higher. That's what will send dollar/yen higher. However, if the global stock markets continue to move lower, then dollar/yen will move towards that 11041 area, correct to that area, and then turn back down with those global stocks. So remember, all of the Forex traders watching this, and your stock traders that are watching this video, it's one of the same trades here. They're very, very highly correlated. Right now, our predicted differences are rising, but still below the zero line, so we sill have a bearish tone to this pair while under 11041, to be very clear.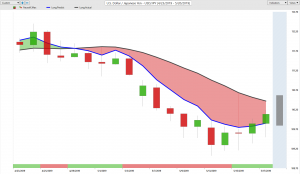 The Commodities Currencies
U.S. Dollar/Canadian Dollar (USD/CAD)
Now, as we go into our main three commodity recurrences this week, we're looking at the US CAD. Now, in the VantagePoint live training room and with my own direct clients, basically, like shooting fish in a barrel here guys. Using these verified resistance zones, every time this US Canadian pair comes up towards the top of the range around the 135 area, we've been shorting. So, this trade continues to work, it worked again on Friday. Now, some news coming out of Canada that the US has lifted the tariffs on steel and aluminum. That tariff was lifted, to be clear, because Justin Trudeau finally conceded to Trump's request to stop shipping the Chinese steel across the border and masking it as Canadian steal, and that's actually what was happening. The steel was being imported or exported from China into Canada, and basically smuggled across the border under the guise of no duty attached to it. That's been corrected, the tariffs have been listed. This should be a positive for the Canadian dollar.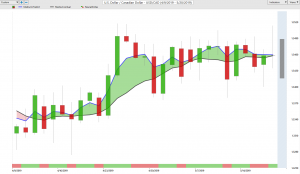 Regardless of red, green, blue or your politics, I believe that Trump was correct in putting that tariff even though I am I Canadian. That was the right thing to do, because a lot of that steel was actually not coming from Canada, and that was the issue. So, when we look at this right now, once again here guys, understanding how to use these predictive differences in combination with the Neural Index again, we can see the medium-term crossing the long-term predicted difference is turning down. I believe the Canadian dollar is potentially getting ready to strengthen. But, be advised it is a holiday on Monday in Canada, so that is not a true price on Monday. If the US/Canadian pair goes screaming higher on Monday, it's likely to go crashing lower on Tuesday when the Canadian markets return. So, just a little bit of advanced warning there that it is Victoria day, and it is a holiday in Canada. So, be careful of this, but for now, the range between 13520 and the lower end of this particular range is 13380, in my respectful opinion, it is more likely than not we are heading to 13380 than towards the 136 area.
Australian Dollar/U.S. Dollar (AUD/USD)
Now, when we look at our other two main commodity currencies, Aussie/US across the board is down about 14% against all of its major G7 currencies on the month. The probability that the Aussie currency is getting ready to turn high very soon is very strong. So, we know where we had this spike lower that went all the way down to the 6638 area, I don't feel that we are moving down to 6638. I believe that the Aussie is pretty much going to start to get exhausted and people wills tart buying the currency back very soon. Now, we've moved a long way from the T-cross long, 6988, the further we move away from it the more likely it is we're going to retrace to it guys. So, we're going to continue to watch this area. Right now, we're closing the week at 6864. Just be very, very cautious. Because again, when we come back out and we look at this on a year-over-year basis, the additional support is not down to 66, but again, I think it's a little overdone on the month. I would say the same thing for New Zealand here guys. It's in a strong downward move. But, it's been in this move for a very long time, since March the 27th. So, a corrective move, if nothing else, is likely going to be in the cards very soon.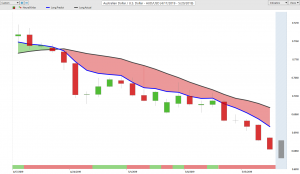 New Zealand Dollar/U.S. Dollar (NZD/USD)
To begin the week, our verified zone, the low-point of that is coming in at 6520. We're closing the week basically right on that level. So, if this thing is going to turn higher it's going to be within the first couple of days of next week. So, also watch for some opportunity there, because after we made this low our medium-term crossing our long-term predictive difference has taken place and that is warning us, potentially, of this pair reversing higher also. So, the only major event risk that we really have coming up next week is the FOMC minutes. I don't see a lot of variation from the norm coming out of those minutes. So, it should be a fairly basic week based around supply and demand only.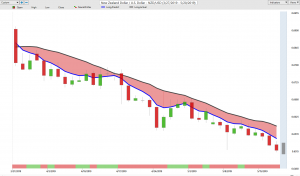 So, with that said this is the Forex weekly outlook for the week of May the 20th, 2019.