THE FUTURES MARKET SUMMARY
WHITEHALL LV INVESTMENT MANAGEMENT FUTURES MARKET SUMMARY 01/26/10
SUMMARY OF UPCOMING DATA 01/27/10
10:00 AM US NEW HOME SALES (370 K)
10:30 AM EIA INVENTORY (PETROLEUM)
1:00 PM US 5 YEAR NOTE AUCTION
2:15 PM FOMC MEETING ANNOUNCEMENT
DATA RESULTS 01/26/10
US CONSUMER CONFIDENCE (55.9 vs.53.5)
US HOME PRICE INDEX (0.7%)
US 2 YEAR NOTE AUCTION
(BID TO COVER 3.13 YIELD AWARDED 0.880%)
US DEBT REVIEW AND OUTLOOK
US TREASURIES jumped down in the bunker and stayed there for most of the trading session. Equities were allowed to take the focus of the day as US bonds maintained a stable tone. Data releases has little influence on price direction as Treasuries were essentially sandwiched between a better than expected reading on US consumer confidence and a solid US 2 year note auction.
Most of the price action in Treasuries took place in the overnight, as the Asian markets took it on the chin after evidence of China's credit tightening came further into the light.
Bonds seemed content to allow equities to take the focus of market interest today. Traders seemed content to remain on the sidelines ahead of Wednesday's end to the first FOMC meeting of 2010. Once again, the focus will not be on policy action (expectations are for US rate policy to remain unchanged) but on the post meeting statement. Particular attention may focus upon commentary pertaining to the possible reintroduction of asset repurchase plans by the Federal Reserve. The reaction may be less supportive to the markets than last year-especially after the announcement by the CBO (Congressional Budget Office) that the US deficit is likely to reach $1.40 trillion dollars.
Technically, very little has changed with regard to support and resistance levels. Test of support at 117-30 remains likely. A break of this level could result in a test of 117-19. Expect this level to hold as support while the market continues to attempt the formation of tighter ranges. Resistance sets up at 118-29. A break of 119-14 should be viewed as a possible upside breakout, while a break of 117-04 should be considered as a significant downside breakout.
US EQUITY REVIEW AND OUTLOOK
Stocks, unlike the little engine that could, did not know it could be the end of the session. Early gains supported by a better than expected reading on consumer confidence and solid earnings (including Monday's after market blow away earnings numbers by Apple) eroded by the end of the session as failure to breach technical resistance revived sentiment to sell into strength. Levels of uncertainty regarding the employment status of the US Treasury Secretary and the Federal Reserve Chairman (A Good Start?-question for debate) also continue to drive the "sell into strength" mentality. Of course this may be another example of "Sell the rumor-Buy the Fact" as the focus may perform a 180 back toward the majority of better earnings. Remember how the market will at a certain point provide its grade and then ask the question "What Next". The intensity of uncertainty will likely determine the market direction post earnings season.
Continuing concerns about China's forced monetary slowdown also overshadowed the better than expected report on US consumer confidence. Energy and industrial stocks were among the worst performers, while technologies proved not to be the biggest losers-again supported by Apple, which closed higher-though off its best levels and 52 week high.
TECHNICAL OUTLOOK- March S&P futures need to find momentum to push above 1103.00 in order to find some level of recovery. The market should range trade with another punch back up toward the 1098.00 level. The recovery should be limited to an initial push up to 1108.00. Downside market momentum should set up for a retest of 1079.00, with 1072.00 and 1061.00 as significant support levels.
| | | | | | |
| --- | --- | --- | --- | --- | --- |
| US DEBT FUTURES | OPEN | HIGH | LOW | CLOSE | CHANGE |
| US H0 (US 30 YRS) | 118-12 | 119-06 | 118-06 | 118-09 | -1/32nds |
| SP H0 (S&P 500) | 1088.00 | 1100.00 | 1085.50 | 1087.20 | -5.40 |
| | | | | | |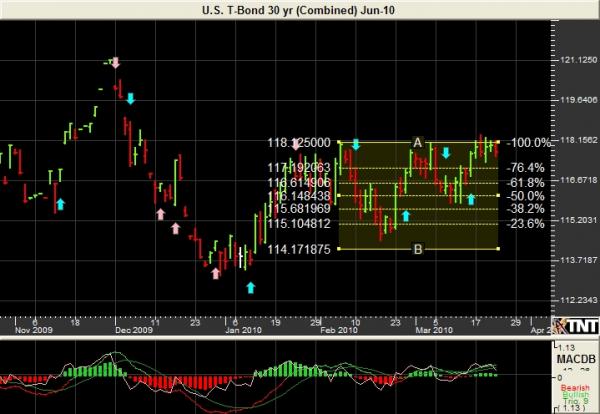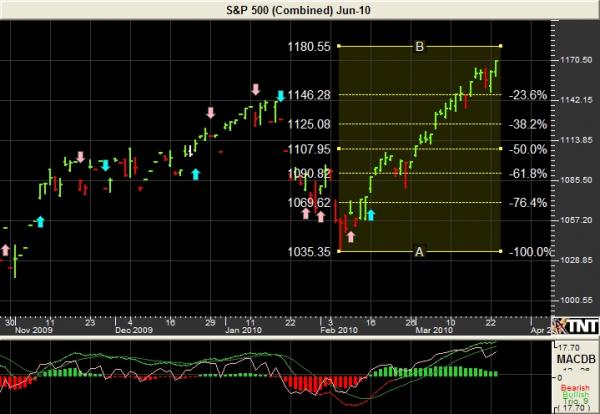 Prepared by Rich Roscelli & Paul Brittain.
PLEASE VOICE YOUR MARKET OPINIONS, THOUGHTS, AND QUESTIONS. EMAIL TO RICH@BINVSTGRP.COM
Additional Information can be found at WWW.WHITEHALLVEGAS.COM
Past performance is not indicative of future results. The information and data in this report were obtained from sources considered reliable. Their accuracy or completeness is not guaranteed and the giving of the same is not to be deemed as an offer or solicitation on our part with respect to the sale or purchase of any securities or commodities. Whitehall Investment Management, its officers and directors may in the normal course of business have positions, which may or may not agree with the opinions expressed in this report. Any decision to purchase or sell as a result of the opinions expressed in this report will be the full responsibility of the person authorizing such transaction.