In recent weeks, Apple (AAPL) has dropped from a test of its yearly highs in the 130's to prices in the 100-teens. Buyers came in right on cue at yesterday's low at 113.25 but this leaves AAPL in a conundrum in the near-term.
The zone beginning at 113.25 is support, as established by the high-volume area created over the course of late last year and early this year. This high-volume area should be a robust zone of support and seeing buyers stepping in at the first test of this boundary yesterday is a testament to that fact.
The high-volume area above, created since February, resides at 124.27 – 129.37 and is now a formidable zone of resistance above. The most likely scenario in the near-term and potentially for an extended period of time is for AAPL to go into a phase of consolidation/rotation between these zones.
Finding a security like AAPL that has a robust zone of support below and a robust zone of resistance above can provide an advantageous environment for option traders who can use these zones to select strikes for strategies like selling an iron condor or for legging into an iron condor as price rotates from one side to the other.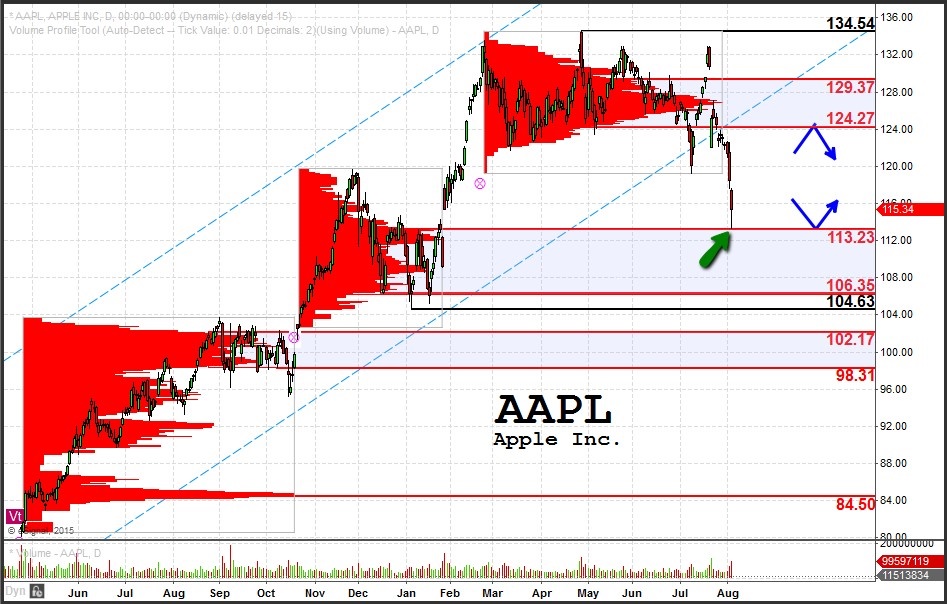 If you'd like to see more about how to use volume profile analysis in your trading, visit http://www.volumeatprice.com