On Tuesday, Federal Reserve Bank of Atlanta President Dennis Lockhart (voter) said the US economy is ready for a rate hike. "I think there is a high bar right now to not acting, speaking for myself."
After last week's Employment Cost Index data, which was the weakest on record with an increase of only 0.2, the market dialed down expectations of a Fed hike in September. Now, all eyes are on Friday's employment report for clues on whether the Fed is still inclined to hike, and if indeed the ECI data was an outlier. Lockhart has apparently dismissed ECI.
Many commentators have suggested that when the Fed actually DOES raise the Fed Fund target, that markets in general have the potential to become much more volatile and the bond "bubble" will be deflated with a messy outcome of higher rates across the curve.
Let's consider the situation at in terms of the 5 year to 30 year treasury yield curve spread. In the beginning of 2015, when treasury rates were at their lows, 5/30 reached a low of just 102 bps. After getting out of the weak, 'weather induced', first quarter, the curve started to aggressively steepen, from 105 in mid-March to 154 in mid-April. Typically a steeper curve signals higher inflation and a more robust economy. Since then it has been in a range of 133 to 154. Yesterday, it closed at 129 (as of the futures market 2:00 pm settlement), which represents a downside breakout of the May/June/July range. This is the lowest it has been since late April. What caused yesterday's breakdown? Lockhart, as shown on the interday chart below: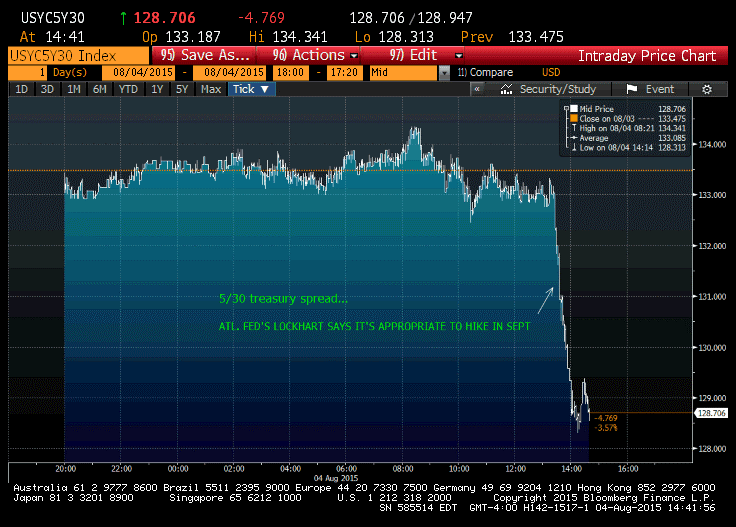 The Fed is in a bit of a box. With an overt articulation of a near term rate hike risk, the 30 yr bond yield only increased 2 bps on the day, from 286 Monday to 288 yesterday. In contrast, the 5 yr note yield went from 151 to 159. Typically of course, the curve DOES flatten as a central bank tightens. But I would argue that the flattening seen today is signaling a stall, both in terms of growth and inflation prospects if the Fed hikes. Given the backdrop of a strong dollar, weak oil and commodities, and slowing emerging markets punctuated by China's descent, fragile sentiment is understandable. Even modest tightening by the Fed is perceived as risky by the market; the 30 yr bond yield may even DECLINE on the first hike. All the hand-wringing about a possible explosion in yields is way overblown.