The S&P500 mini futures (ES) were struggling yesterday, trying to convince the world that some sort of rally was possible, if not likely, when Atlanta Fed President Dennis Lockhart speculated that September was a likely time for an interest rate increase. Maybe. The result was about what you would expect: the US dollar roared higher, and equities dived for cover. Everybody's favourite stock, APPL, was especially hard hit.
The current futures contract (ESU5) ended the day at 2083.00 close to the low of the day, and 7.50 points below the previous close.
It's the summer vacation season, folks, lots of traders are away, volume is low, volatility is high, and it doesn't take much to change the short-term direction, at least temporarily.
Despite Tuesday's dump, our hopes for a longer rally are still alive. Wounded, but alive.
In yesterday's note we mentioned the possible formation of a bullish inverted head and shoulders formation (see chart). A close below Monday's low around 2078-80 would negate that pattern. Yesterday the decline stopped above that area, and even bounced a little. The very tentative pattern is still a possibility.
Today the 2080-78.50 zone will be very important again. Holding above it will give buyers one more hope that the pattern may still work. But if the ES can't move above 2088.75 during overnight trading, and breaks down Monday's low, it is likely to go lower toward the 200-day moving average area again.
The ADP employment report will be released early today before the US market opens. It may add more bearish sentiment to the market.
Major support levels for Wednesday: 2054-55, 2035-32, 2025-23.50, 2018.50-16.50;
major resistance levels: 2128.50-29.50, 2134.50-36.50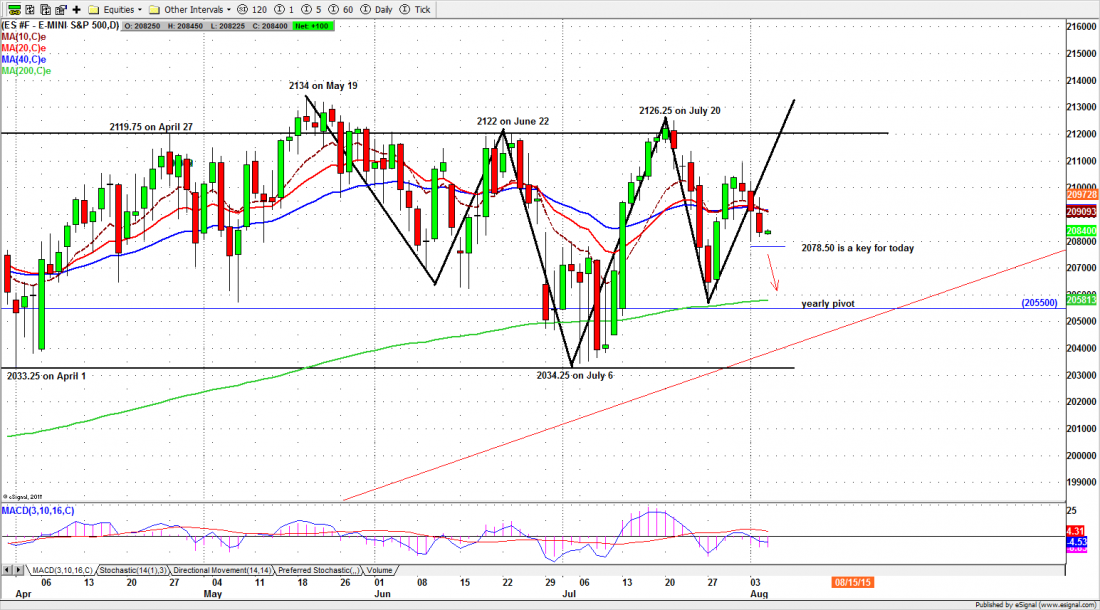 For more detailed market analysis from Naturus.com, free of charge, follow this link