Commodity TRADING SCHOOL
COMMODITY TRADING SCHOOL FUTURES MARKET SUMMARY 08/04/09
08/05/09 SUMMARY OF DATA
8:15 AM ADP EMPLOYMENT REPORT
10:00 AM US FACTORY ORDERS (-0.9%), ISM NON-MFG INDEX (48.2)
10:30 AM EIA INVENTORY NUMBERS (CL +1.5 M, RBOB -2.0 M)
11:00 AM US 3, 10, 30 YEAR AUCTION ANNOUNCEMENTS
SUMMARY OF DATA 08/04/09
US PERSONAL INCOME & OUTLAYS (PI-1.3 % vs. -1.1% CS 0.4% vs. 0.3%) nondurables higher)
PENDING HOME SALES INDEX. (94.6 vs. 90.7)
US DEBT MARKETS TRADE IN VOLATILE SESSION, EARLY GAINS FAIL AFTER BETTER THAN EXPECTED PENDING HOUSING SALES. EQUITIES ALSO MIXED, CLOSE AT SESSION HIGHS AT CLOSE.
US TREASURIES scaled between support and resistance levels with little clear direction in Tuesday's session. Most of the price action today was driven by US economic data which forged sentiment as volumes remained relatively light. Early gains were supported by a mixed picture on personal income and consumer spending. Personal Income dropped by a level greater than expected, as stimulus from US tax break subsided. Consumer spending increased by an extra 0.1 percent. The increased expenditures were confined primarily to nondurables such as gasoline.
Gains in Treasuries failed after the release of US pending home sales data, which not surprisingly increased again from last month as falling prices continue to pull buyers looking for perceived bargains off the sidelines. US 30 year futures dropped nearly a full basis point at the lows of the session, before recovering in the wake of traders squaring up positions ahead of Wednesday's announcement of next week's Treasury auctions of US 3, 10 and 30 year securities. Markets appear likely to continue range trading as drops to these levels increase yield, attracting portfolio managers and financial institutions taking advantage of the perceived ongoing low interest rate environment in the US. However downward pressure driven by supply and a US Dollar which appears technically to be teetering on the brink of falling to a record low will offer a challenge and continue support of a defined trading range that could last at least into October of 2009.
Equities traded in a tight volatile range today, also driven by conflicting data and profit taking ahead of employment data releases and the market's questioning of where the new drivers of positive sentiment will come from, particularly as earnings most past the shock and awe of global coordinated stimulus.
TECHNICAL OUTLOOK-US 30 YEARS- SEPTEMBER US 30 YEAR TREASURIES have returned to a midpoint within the defined range between 119-230 and 115-120. Continued downward momentum should test support level at 116-180, with a break below this level setting up a test of 115-240. Resistance levels set in at 117-225 and 118-200.
S&P 500- S&P 500 futures are showing some signs of seeking a pullback, with resistance appearing to narrow to 1010.00. At this level, market should find a strong top that should result in a pullback to support at 995.00, with key target level of support remaining at 976.00
| | | | | | |
| --- | --- | --- | --- | --- | --- |
| US DEBT FUTURES | OPEN | HIGH | LOW | CLOSE | CHANGE |
| US U9 (US 30 YRS) | 117-270 | 118-120 | 116-155 | 117-015 | -17.5/32nds |
| TY U9 (US 10 YRS) | 117-110 | 117-110 | 115-270 | 116-060 | -1 03.0/32nds |
| ED Z9 (EURO $) | 99.260 | 99.295 | 99.260 | 99.280 | +1.50 |
| SP U9 (S&P 500) | 995.50 | 1005.00 | 993.50 | 1004.70 | +4.00 |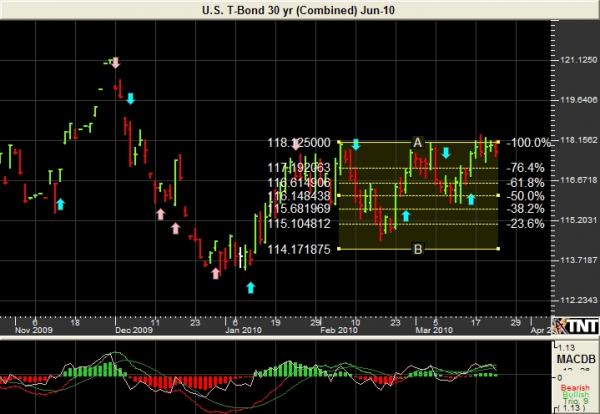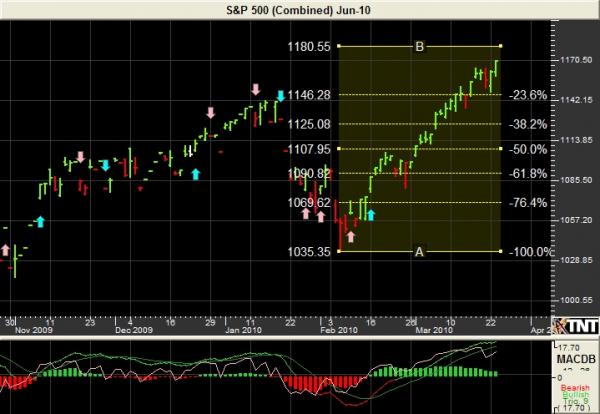 Prepared by Rich Roscelli & Paul Brittain.
EMAIL QUESTIONS OR COMMENTS TO RICH@BINVSTGRP.COM
Past performance is not indicative of future results. The information and data in this report were obtained from sources considered reliable. Their accuracy or completeness is not guaranteed and the giving of the same is not to be deemed as an offer or solicitation on our part with respect to the sale or purchase of any securities or commodities. Commodity Trading School, its officers and directors may in the normal course of business have positions, which may or may not agree with the opinions expressed in this report. Any decision to purchase or sell as a result of the opinions expressed in this report will be the full responsibility of the person authorizing such transaction.