Commodity TRADING SCHOOL
COMMODITY TRADING SCHOOL FUTURES MARKET SUMMARY 08/05/09
SUMMARY OF DATA 08/06/09
8:30 AM US WEEKLY JOBLESS CLAIMS (575 K)
10:30 AM EIA INVENTORY (NAT GAS)
SUMMARY OF DATA 08/05/09
ADP EMPLOYMENT REPORT: -371 K VS.-471K
US FACTORY ORDERS (0.4% VS.-0.9%), ISM NON-MFG INDEX (46.4 VS. 48.2) EIA INVENTORY NUMBERS (CL +1.7 M, RBOB -0.2 M) US AUCTION ANNOUNCEMENTS (3YR-$37B, 10 YR-$23B, 30 YR-$15B)
US DEBT, EQUITY MARKETS POST VOLATILE SESSION. MARKETS LACK CLEAR DIRECTION AHEAD OF EMPLOYMENT DATA CONFIRMATION, UNCERTAINTY ABOUT NEXT STAGE ECONOMIC DEVELOPMENT.
US TREASURIES came under pressure again in another relatively directionless session. In the end, supply concerns and the ongoing sense of economic recovery increasing risk tolerance, as well as the continuing fall of the US Dollar, drove the US treasury debt complex to close near its lows of the session.
Treasuries reached their highest levels of the session after a surprisingly weak reading on the ISM (Institute for Supply Management) spurred profit taking in the equity markets and relieved some of the pressure on US fixed income. Traders returned to once again sell into strength as risk appetite for higher yield increased and supply concerns won out in the wake of next week's weeks record auction of US 3, 10, and 30 year Treasury debt.
Traders are also awaiting the unfolding of this week's unemployment data in order to see if the apparent economic recovery actually has legs to stand on (In other words- does a less worsening job loss picture offer hope of a point where the funding of the global recovery can come from somewhere else besides massive global debt floats?). These are the questions that the market will have to digest. More than likely, it will be a slow process that will continue to see Treasuries trade range bound well into the latter part of this year.
US equities lost some of their shine today as a sense of recovery euphoria getting ahead of itself prompted traders and investors to lock in profits on long positions. Energy and material shares were among the weakest performers while gains in financials offered a lifeline after Lloyd's Bank reported that its portfolio of distressed assets was leveling off. Many analysts are expecting an adoption of the "sell into strength" strategy with regards to equities, as employment data and the ending of a supportive earnings season will leave bullish sentiment without a significant driver.
TECHNICAL OUTLOOK-US 30 YEARS- SEPTEMBER US 30 YEAR TREASURIES continue to trade within the defined range between 119-230 and 115-120. The market staged a strong move through initial support at 116-180 and should target 115-280 as a new down target level. Resistance sets up at 117-030. The narrow range parameters should allow the market the recover back to 116-150.
S&P 500- Futures pulled back through initial support level at 995.00. This break should allow for downward momentum to build for a retest of 992.00, with a possible test of 979.00 by next week. Strong resistance remains in place at 1010.00, with a break of this level setting up for an initial target on the upside of 1014.00
| | | | | | |
| --- | --- | --- | --- | --- | --- |
| US DEBT FUTURES | OPEN | HIGH | LOW | CLOSE | CHANGE |
| US U9 (US 30 YRS) | 117-005 | 117-240 | 116-000 | 116-030 | -30.5/32nds |
| TY U9 (US 10 YRS) | 115-295 | 116-150 | 115-130 | 115-165 | -17/32nds |
| ED Z9 (EURO $) | 99.275 | 99.280 | 99.220 | 99.250 | -3.00 |
| SP U9 (S&P 500) | 1003.00 | 1004.00 | 991.50 | 1000.80 | -3.90 |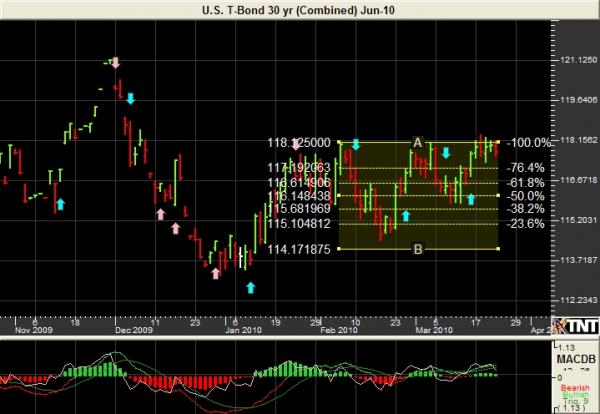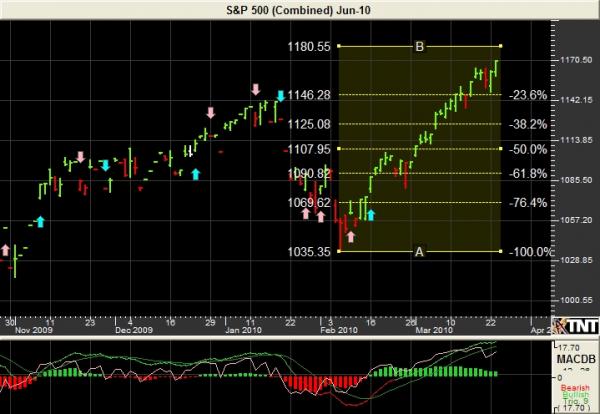 Prepared by Rich Roscelli & Paul Brittain.
EMAIL QUESTIONS OR COMMENTS TO RICH@BINVSTGRP.COM
Past performance is not indicative of future results. The information and data in this report were obtained from sources considered reliable. Their accuracy or completeness is not guaranteed and the giving of the same is not to be deemed as an offer or solicitation on our part with respect to the sale or purchase of any securities or commodities. Commodity Trading School, its officers and directors may in the normal course of business have positions, which may or may not agree with the opinions expressed in this report. Any decision to purchase or sell as a result of the opinions expressed in this report will be the full responsibility of the person authorizing such transaction.