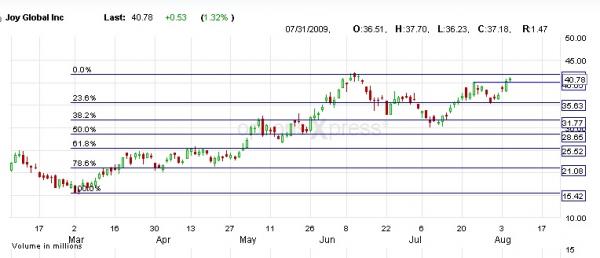 JOYG completed a Lo-Hi on a daily chart between Mar 2 and Jun 9, 2009. This was a 5 wave move followed by an anticipated 3 wave retrace to the fibonacci 38.2%. With the 38.2% 3 wave retrace we should feel fairly comfortable that JOYG has in fact completed a correction. With the depth of correction between 38.2% and 61.8% we should feel confident that a strong 5 wave impulse bullish wave should follow.
We have seen the new bull wave 1, 7/10 – 7/23, followed by wave 2 retrace. The anticipated strongest and longest wave is the wave 3 that JOYG's price is just entering. Wave 3 is the one I want to trade.
There are 3 BUY points where I am looking for an entry. The first and riskiest is the
the first retrace, completion of wave 2 on 7/29. The next entry should be at a short pull back from resistance at $41.80 and the safest at the first retest of the new support, old resistance at $41.80. The 1st buy point is a higher risk entry then the 2nd or 3rd but also could promise a greater return. Likewise the 3rd entry point is the safest at the expense of not getting in on the start of the bullish impulse move.
In my opinion, I anticipate a target price of $55.00 based on the next higher resistance level and projecting the previous wave forward.. Of course this is all predicated on a successful entry into the trade. Let's set a stop below the first buy point at $34.50. My time scale indicates that I should be in at least the October CALL options.
Please NOTE: The proceeding is intended as a discussion and in no way am I recommending a trade in JOYG.